Chrome Shelled Regios:Volume13 Chapter1p1
Jump to navigation
Jump to search
Cadenza Road Itto: Part 1
[
edit
]
A faint blue dimness pervaded the surroundings.
A stone without any taint. Its surface was transparent like a mirror, reflecting the faint light like water. No one knew where the light came from. Or perhaps, the wall itself was releasing this faint light? But the light was not enough to chase away the darkness. Light and dark combined to create this special faintly blue gloom. It made a person feel like he was swimming in moonlight.
"This is?"
Words seeded with doubt echoed faintly. The sound rippled in the dimness. The surroundings stirred.
"This is the inner court of Grendan," Alsheyra said in a low voice behind her.
Alsheyra reached out a hand behind Leerin. Unlike before, that long and elegant finger guided Leerin's gaze. A hand that had been decorated. The decorations adorning her hand sparkled lightly in the darkness. It was also a strong hand. The hand of a guardian who was stronger than any Military Artists in Grendan.
The door.
It didn't look any different than the wall. But there was nothing behind them here, so Leerin understood this was the door.
The door was in front of her.
No, it existed here.
Alsheyra continued her narrative. Synola, the person who went to school together with Leerin was in fact the Queen who governed Grendan. Facts were always accompanied with an element of surprise. Leerin was surprised at that time too. But she had already seen through it before the disguise came off. Leerin's right eye had seen through Synola to the real identity that was Alsheyra Almonise.
"Inside this place is the person who is connected to the beginning of the world. She is the prototype of all Electronic Fairies. She lived in the very first Regios. She is the first guardian to the human race. All Electronic Fairies are copies of her. That way of putting it might be more suitable."
Alsheyra's explanation was meaningless. It was both wrong and right. Leerin's right eye knew.
That person was connected to the creation of the world. That person had been reborn in order to guard the human race. However, that wasn't her wish. She was anticipating the person who had helped her regain her lost identity. She lived till now to wait for his reappearance. In fact, she didn't care about the fate of this world. All she prayed for was his safe return.
He was the true owner of Leerin's right eye. What lived in Leerin's body was just his shadow. And the origin of that shadow was......
"Is it really all right?" Alsheyra said.
Leerin thought of her words.
"Since what will happen next wouldn't be that bad. The worst situation might not occur during our lifetimes. There's no need to go past this door and no need to know the truth. Even so, do you still want to?"
The knot in Leerin's heart tightened at that question.
"......Don't you understand?"
"Huh?"
"Do you not understand anything? Things might begin in the next moment. The shadow might swap with the real body. If that doesn't happen, what about next time? It might happen soon! Isn't that so?"
"Yes, I don't deny that. Things are starting to move, but I don't know at what speed. The flow of time in the two sides might differ. Perhaps, while we're making our preparations, a hundred years might have flowed past."
".........I don't know. Didn't we just arrive here?"
"Yes. Either way, we don't know."
"That's why we should do our best in the present."
"That's the right choice. But is it really all right?"
Alsheyra's repeated question stabbed Leerin's heart. The question stabbed deeper than the initial question, making it hard to breathe.
"......Why, why are you asking?"
"What we need now is the "correct choice" that everyone can accept. Isn't that so?"
"..............."
"What we need now is also the "correct choice" of your feelings. Right?"
Leerin clutched her chest tightly, feeling the pain, making herself accept Alsheyra's words. She did it because they were words she wanted to hear and words she couldn't disobey. But the temptation in the words and the pain both landed in her heart. She was determined to untie that knot in her.
Perhaps that was the truth.
No, she already knew what the "right" choice was. But she couldn't accept it, and she couldn't be persuaded. She didn't even know how things would turn out if she took action.
"So I............"
Once more, she took a step out. Facing the wall, she walked close to the door.
"I knew from birth that this day would come, so I could walk this path without confusion. But Lee-chan's different. The sudden realization, the sudden involvement. It's okay as you only learned now of the burden of fate you carry. No one would blame you. I wouldn't blame you."
".........Thanks."
But Leerin's steps did not cease. She would just keep on walking. That way.........It didn't matter.
◇

Nina Antalk slept. The golden goat was near her. Sparkling light exuded from it as it waited for the timing from not too far away, watching her.
Where is this place?
It wasn't a real place. At least, it wasn't some place she was familiar with. Not Zuellni. Not Schneibel. An alien place.
This wasn't a real place because Nina knew she was sleeping.
The Haikizoku. Only he was watching her.
"You are........."
She tried to get closer, but the goat retreated at the same speed. She didn't see him moving though. Perhaps this was the distance of the mind between her and the goat. That was what a dream was, which meant she was still sleeping. There was nothing here. Everywhere was dark. Nina and the Haikizoku floated in the darkness. Time flowed. The two kept silent. No, did time exist? No matter how long one was in a dream, only a few seconds would pass in reality. Time in a dream was meaningless. In that case, perhaps the silence between them hadn't been a long one. But it felt long to Nina.
She wanted to say something. The silence made her uneasy.
"What is your name?"
The goat that had kept still like a statue finally moved. Its body shook lightly.
"As an Electronic Fairy, you were once a city's consciousness? I saw it. That was your city, wasn't it? Then you should have a name."
"I've become the blade of revenge. A name means nothing. I only desire for the person who will use me and the person who can use my power."
"You mean me?"
"For now, I look at you to see whether you can complete the blade of revenge or as the flame of hatred, turn me into a blazing flame. Or turn my face into that of a person who is like a beast of ill-omen. I will keep looking."
"Who are your enemies?"
She knew of the Haikizoku's power when it was on a rampage. That information she had obtained from Haia. Changed by its hatred for those who had destroyed its city, the Haikizoku had transformed into a dangerous power that could be lent to a Military Artist, and its target was the filth monsters. The Haikizoku had caused the Academy City to go on a rampage, and it had entered Nina's body. If she didn't have Zuellni's help, she wouldn't be able to suppress its power. After that, she had come to the city of Myath and was involved in the fight against the Wolf Faces. To put it another way, a certain huge power had made her fight them.
This might be connected to Dixerio. While preventing the Wolf Faces' plan from coming into fruition, Nina had been dragged into this thing that was connected to Dixerio.
But that might also be wrong. Dixerio might not be the cause of her movement to Myath. Perhaps the overlapping of the two of them had caused a simultaneous movement. Perhaps this had occurred for the first time since the Haikizoku's power entered her body.
"The negative substance that wishes for this world's destruction. The person who spreads it. The people who want to bring their ideals into reality. I belong to this world. I exist in this world. It's natural for me to battle and bet on this world's existence."
"The Wolf Faces too."
"Of course."
"Just what are they?"
"............"
"They are planning something, that I can tell. It must be something bad. Those guys don't care for the deaths of Electronic Fairies and their cities. I understand we must defeat them, but I don't know what they're doing."
"........." The Haikizoku was silent.
"I don't know why they do what they do. You know, don't you? Then tell me."
"........." The Haikizoku was silent.
"Tell me. I don't know. I know nothing about the enemies. "Something bad" isn't an explanation I can accept."
"............" The Haikizoku remained silent.
What was the meaning behind that silence? "Tell me everything. Who are we fighting? What is the point of it? I want to know what other threats there are to this world other than the filth monsters."
"I know your anger."
That was the battle in Zuellni against the giants. The sound of Military Artists who craved for battle rose and fell. It was a hopeless and hated scene for the Haikizoku. He cursed his impotence. As a city's consciousness that worked to protect humans, he had failed to take up his responsibility.
This scene hammered home his impotence.
The Haikizoku managed to live by feeding on his despair. It searched for a Military Artist it could entrust its power to battle the filth monsters, the Wolf Faces and the unknown enemies to this world. He ended up living in Nina's body. Even so, why didn't he tell her everything?
".........I too, I've sighed at my impotence."
Nina put a hand on her chest, recalling the pain in her memory. This memory started from Schneibel. She had failed to save the little Electronic Fairy. After that, she had come to Zuellni to train herself. But she still felt powerless even though she was in Zuellni. A loss in the previous Military Arts Competition had left Zuellni short of supplies.
"We cannot lose next time. We must win in the next Military Arts Competition." She had kept training while holding this belief. In order to strengthen her resolve, she had left team 14 to start her own 17th platoon. She had invited Sharnid, who had left team 10, to join her. Later on, the Student President had recommended Felli. Harley had become the platoon's Dite technician, and the platoon had started its activities despite its low member count.
Nina had felt uneasy. Perhaps her first step was wrong. Perhaps it was wrong to strengthen her resolve under those circumstances. They didn't have any outstanding fighting power, nor did they have any brilliant tactics. Perhaps it was more correct to work under the captain of the 14th platoon and let him draw out her potential. That unease had always occupied her heart. Perhaps she should disband the platoon. That thought had come to her again and again, but she had stomached all the weaknesses of the team.
At last, Layfon appeared.
His existence was so bright. His power drew Nina in the right direction. Though there were many accidents, they had finally won in the intercity match with Myath. Zuellni was released from its situation. Though this wasn't the last Military Arts Competition, if this kept on going, Zuellni probably wouldn't lose.
Zuellni had been released from its crisis. But what did Nina gain? Was it good to have formed the 17th platoon? What had the platoon that reflected her will have offered in the battle? Did everything else become meaningless as long as Layfon was here?
"I actually didn't do anything. Aren't I still a meaningless and powerless existence? Haikizoku, you chose to live in my body. But that power is yours. I'm just a tool to manifest your power. As I thought, I'm still powerless. Is that why you aren't telling me anything?"
Her chest hurt. Her breathing hurt. She had left Schneibel for a certain goal. What had she achieved now? She was jealous of Layfon, and she disliked herself for being unable to hate him. She must be very ugly.
What was she thinking when Karian reproached Layfon for relying on her as his reason to battle? What was she feeling when she fought the giants and was almost taken over by the Haikizoku? Was she here just because of her own willfulness?
".........You who comprehend your powerlessness."
The Haikizoku spoke as she sank into negative thought.
"You understand the heart of an Electronic Fairy. It was a correct choice to stay in your body. But your resolve is not enough. Perhaps you have experienced the hell of this world, but your resolve to strive for the future is not enough."
"I mean the resolve to keep fighting, you little Military Artist. You who have become my son."
This wasn't the Haikizoku's voice. A new existence was now in this darkness, in this incredible dream.
"You are........."
She sucked in a breath as she watched her. So beautiful. So unexpected. Looking from a human's perspective, her appearance stood on the fine line between beauty and ugliness. She had a human's form, but some parts were different. Wings took over her arms. Within her hair was a long feather like a bird's tail feather. Feathers grew on different parts of her body, and her feet were the claws of a bird's.
Half beast and half man.
"Schneibel?"
That was Schneibel that Nina had seen when she was little.
"Great mother," the Haikizoku called her.
A faint smile adorned Schneibel's face. She looked at the Haikizoku then surveyed her surroundings.
"Melnisc, I've made you carry a painful memory. You others, no need to hide. Show yourselves."
A change occurred. The world remained dark, but two more pictures appeared in the dark background.
It was a four-legged beast with long fur, and the other......
"Zuellni?"
The Electronic Fairy that had grown after obtaining something from Falnir stood by Nina's side.
"The three children who have chosen a cruel fate. This is your first time gathered together?"
"As we're connected closely by En, no need for first time formalities," the four-legged beast said.
"Yes, Grendan. Though I'm connected to this girl, it's not so for others. This is the first meeting. It's a moment that is worth remembering."
Melnisc. Schneibel had said it. That must be the Haikizoku's name. And she had called the four-legged beast "Grendan". Lance Shelled City. Gorneo had said it before. There was another Electronic Fairy in Grendan. An existence that slept and was called the true will. So this four-legged beast represented the will of the sleeper. It was a Haikizoku that drove the movement of the Lance Shelled City.
And there was Zuellni, lowering her head unobtrusively beside Nina. Why did she appear with these two in here? Why did Schneibel say "The three children who have chosen a cruel fate"? What had Zuellni chosen?
"Grendan, has Saya awakened?" Schneibel said, ignoring the confused Nina.
"Not yet, but it's close. The person with the rose and cross crafted into her and the person who possesses great power have appeared."
"They should be in one body, but now it looks like it won't go so smoothly."
"Yes, but I don't know how things will progress in this situation."
"The shadow has become two. Though that shouldn't have appeared, this is the first of many occurrences. We'll have to keep watching to see what happens next. What I'm worried about is just mere worry."
"Perhaps not, that's why we need to make preparations."
"As you said, and there's also Zuellni."
Schneibel's gaze turned to Zuellni. The tiny Electronic Fairy looked at the mother of all Electronic Fairies without fear.
"You, who have chosen to hide in the dimness, have seen everything. What has happened to her?"
Nina watched Zuellni. The Electronic Fairy that had never spoken opened her mouth. Though she had heard the Haikizoku – Melnisc's voice, she had never thought that other Electronic Fairies could speak. Zuellni could speak. What was her voice like?
Though this wasn't the time to notice that, it still bothered her.
"That person has not changed."
Zuellni's voice was gentle and healing.
"As in the past, an upright person."
"The same as the person that I know?"
Schneibel's voice also felt gentle.
"I'm not sure. I do not know the person that mother knows."
"Then, what do you feel about her?"
Zuellni crossed her arms and smiled at Nina. Nina thought of the meaning behind that smile. The conversation that was now taking place in darkness......She thought about it and something suddenly flashed through her mind. Darkness. Only the girl whose beauty was like that of a temptress suited this word. Nina had thought the Haikizoku had left her body.........but the girl had returned Melnisc to her body.
She was the topic of this conversation in the dark.
"She's an upright person. She hasn't changed since our first meeting. What she likes, she likes. What she dislikes, she dislikes. She's clear about that."
"You really do like her," Schneibel said.
Zuellni smiled her usual smile. This was the Zuellni that Nina knew.
"So I'll put my full support behind her, and Nina too."
Though Zuellni tagged Nina onto her word, Nina was finally mentioned in the conversation.
"Um, and Grendan?"
"I've already obtained the information about that girl from you. Her temper and personality haven't changed. Though I don't think her virtues will change, since she's determined, this will become her new strength."
"Both of you have agreed, but the ultimate decision rests in your hand, Melnisc. You too, Nina Antalk. The children who are the knights protecting Schneibel."
Schneibel's gaze found Melnisc. The golden goat lowered its head.
"I........."
"You pitiful child who knows the will of destruction just as Grendan. You pitiful child who has been baptized in despair yet still lives strong. Why do you hesitate?"
"............"
"Is it because revenge burns in you still and you've seen that beast?"
"............"
"Is that it? But you can't become that beast, nor can you partially become him. Though you both have the same form, he lives a different existence. An Electronic Fairy that is not my son, that shouldn't exist in this world. No, he isn't an Electronic Fairy. He lives in the same dimension as Saya."
"............"
"Zuellni is clear about him too? The darkness you protect nurtures him. Do you know what that beast is doing?"
"I........."
"The fight with the Wolf Faces is as expected, since between them is a give and take relationship. But after that, where do the beast's fangs point? Where are they pointing at now? Do you know?"
"........."
Zuellni fell silent. She looked troubled. At the same time, they seemed to be on alert.
".........Unlike them who are closely tied by promises, we do not have a symbol. That's why we can't do as we please. In order to break free from the fate of waiting for the end of the legend, we cannot use the legend as our aim."
"The end of the legend......?"
What did Schneibel mean? Was this what all Electronic Fairies wished for? No, just what was their aim? Wasn't the Haikizoku Melnisc's wish revenge?
"Zuellni......?"
"........."
Nina looked at Zuellni, the first friend she met after arriving at the Academy City. But Zuellni remained silent.
This was a dream.
This was Nina's dream. That should be what it was.
But Nina failed to find a way to break this silence. She failed to wake from the dream.
◇

He was in the dark.
"What? Isn't it already out?"
"Because isn't this more interesting?"
Dixerio took down the mask from his face as he watched the scenery beneath him. The mask disappeared as if melting into the air. It was a face like a beast's. One seemed to see huge fangs during the moment of its disappearance.
"Speaking of which, aren't you gonna explain what just happened? After all, I'm at your beck and call."
"Ala, isn't it normal for the hunting dog to obey its owner?"
"Tsk."
Dixerio left.
He stood on one of Grendan's multi-legs.
"Is this the first Regios of this world?"
"Yes. You've been here many times, haven't you?"
"Unpleasant things happened every time I visited. I never had the time to appreciate its scenery."
"But I think there are many familiar people to you here."
"I've already forgotten. They aren't worth remembering. Besides, they probably don't remember me."
"It's sad, being unable to become familiar."
The fierce wind blew Nelphilia's hair into curls, swaying her dress. Originally, Dixerio wouldn't let it go like that. He also didn't accept himself in the dark for being so unsightly.
"Are you letting loose the sadness in you?"
"You saw through it?"
"That's not like you."
"Fu~"
Bearing the strong wind, she looked at Grendan.
"Speaking of which, the prey has appeared."
"Then capture him, just as I wanted."
"And the girl?"
"Bring her along. She's my woman."
"Ah, when did it become that kind of relationship?"
"Since she interfered with my plan."
"So troublesome. She may be the one that Zuellni likes."
"Then I'll sing Zuellni a nursery rhyme."
"Really, you're already past that age."
"Then I can prepare her a doll."
"Ah, that's a headache."
The scenery was peaceful. The unusual event of contact with an Academy City had ended. Normal citizens had returned to their normal lives. That was the same for the Academy City too. Students had begun working hard to renew the desolate city. Though Grendan's citizens were still perplexed about the incident, they had given the immature students as much help as they could, trying to understand the situation in the other city while being banned from interacting with them.
What peaceful scenery. No one would know the next huge wave was about to hit. Everyone thought the rain had passed.
"So when is your hunt going to end?" Nelphilia's gaze moved from the city to Dixerio's back.
"Until I've hunted them all down. The saying goes, a dog boils a dead rabbit. This time, the hunter has become the prey."
The stirring of green Kei appeared around Dixerio as he replied. Green Kei. The flame of revenge. Though it had a low profile recently, it might be slowly waking up.
Her gaze shifted to the deep blue sky and saw the faint shadow of the moon.
"Perhaps it's coming close."
The moon appeared there all the time even though the sun continued to rise in the east and fall in the west.
"It seems your fangs are heavily damaged?"
"Then let new fangs be grown."
The Dite in his hand had not been restored. This was a new Dite given by Nelphilia. It was made of metal that would never shatter no matter how much Kei was poured into it. This Dite symbolized eternity as long as Nelphilia lived. However, at present, it was rusting. Not the Dite but Dixerio. To say it clearly, it was the fang living in his heart. The reason for the rust didn't stem from Dixerio or Nelphilia. His heart wasn't rusting. His skill was not either.
Yet the rusting never stopped. It continued to invade and swallow the depth of Dixerio's heart.
"Let's go."
Dixerio jumped into the city. It was his will to silently bear the destruction of his body.
"Perhaps it's a good thing for you."
◇

She was very dissatisfied. She absolutely did not comprehend the things happening before her. She tried placing the reasons and what she didn't comprehend side by side in her mind but the end result was blurry. Too many things were incomprehensible. And for those few things she understood, a large part of them was very abstract.
Still, there was something like a premonition.
"Geez......."
Claribel walked in the palace.
She had originally wanted to see the real Queen but the Queen had left the palace with an unknown girl of Claribel's age. Lintence too. Why did he bring in the unfamiliar girl? No. She could tell he had snatched her away.
Claribel saw the Academy City from Grendan. Was that girl a student in this city? Though the filth monsters had made a ruckus yesterday night, the crisis had been safely averted. Claribel had heard the only people over in that city were boys and girls of her own age. She wanted to look but her grandfather had stopped her.
"What did you say?" she didn't get him.
But she had a premonition.
She stopped in the corridor. She could see a part of the city from here. The scenery was the usual Grendan. It was dry on the outside but full of energy in the inside. Though she knew she could feel the unexpected vitality if she was to walk the street, from here all she felt was silence. Perhaps this had to do with the layout of the buildings. Perhaps it was the influence of the tower?
What she saw now was probably different from the Academy city?
The curiosity in her heart gushed out again.
"Shall I go and see?"
Though her grandfather had stopped her, it was her freedom to listen to him or not. If she was found out, what awaited her would be harsh scolding......... But either way, she was the only one who would bear it.
So it should be okay?
That was what she was considering. Besides, wasn't Layfon over there?
"Layfon. But I have something to confirm too."
Her hand reached naturally for the Dite at her wrist.
Let's just head over to the Academy City. This idea urged Claribel. Layfon was there. He became a Heaven's Blade successor at age ten. He was also the first Heaven's Blade to be exiled to another city.
"The person who once held the Heaven's Blade that I can't obtain.........."
She wasn't that interested in his experience. What he did after becoming a Heaven's Blade successor. The thing that had happened, and his deed that a Military Artist shouldn't have committed.......... Not interested at all – because she had already investigated them all. She even knew what the disabled Gahard Baren threatened Layfon with. The three royal families and the Heaven's Blade successors all knew.
Even so, it was not enough to placate the anger of the citizens. Layfon had told the normal citizens the horror of a Heaven's Blade successor. Though he had only told them a part of it, it was enough for them to feel the horror of a Heaven's Blade successor on a rampage. Only fellow Heaven's Blades could suppress a Heaven's Blade. And the Queen whose strength far exceeded all Heaven's Blades had no opponent.
They could destroy the entire city if they were to use their full strength.
Layfon possessed such power, and he had left Grendan to dwell in the Academy City, a gathering place for immature people.
For him who was still immature, Claribel wondered who he was living with.
Had he matured? Or was he still immature? She really wanted to test him.
"What should I do? Today........."
She looked at the city and turned her gaze to the sky.
Looking at herself.
A feeling of electricity had been moving behind her back. It wasn't just here and it wasn't just her who felt it. Everywhere else in the city felt the same. Though Grendan's streets were silent, behind it was a force, waiting to move.
A chaotic presence mixed in with the flow of air. It felt as if any small thing would make the situation dangerous. And it felt as if everyone had forgotten the principles of Military Artists and was making a commotion. But nothing had happened yet. Was it because Grendan's Military Artists weren't foolish enough to react to the influence in the air? Or did everyone think that this dangerous air was nothing compared to the coming storm? Or........
"Claribel, what's up?"
"Ah, sensei."
The direction that the voice came from was her sensei – Troyatte.
"Did you just get up? It's rare to see you not sleeping."
"Ah, I'm tired of sleeping in. I seem to have gotten used to the exciting life."
"Only getting into the idealistic now?"
"That's one part of it..." she shrugged, knowing her sensei's personality.
"Has Layfon appeared?"
"Ah? No. I didn't see him. Lintence and Ruimei seem to have. And Savaris made a joke of being severely injured."
"Savaris-sama?"
"He didn't have the Heaven's Blade with him, but his head almost got separated from his body during a duel. He would have died if Lintence hadn't sewn him up."
".........Did Layfon do that?"
"Seems so. He's shown us something good."
"Has he become stronger?"
"He hasn't changed much from before, and he doesn't feel that terrible. Well, though I don't think it's good not to change, I can't say change is the benchmark to growth. That kind of thing is dependent of the situation."
"Just what are you trying to say?"
"Uncertainty. The ending Lintence set isn't quite bad."
"Lintence designed it? Then........."
Is he already dead?
"Still alive. Though I didn't hold much expectation for Lintence's naivety, I didn't feel the presence of death. Well, whether that guy lives or not doesn't matter to me. What do you think, Claribel?"
"I've learned the same having studied under you for five years."
She reached for the Dite at her waist. She touched it and wanted to pour Kei into it. But not yet. Sparks flew. It wasn't enough to burn up the tension in the air that was liquefied selenium.
"It's flashing though we still don't know what will happen."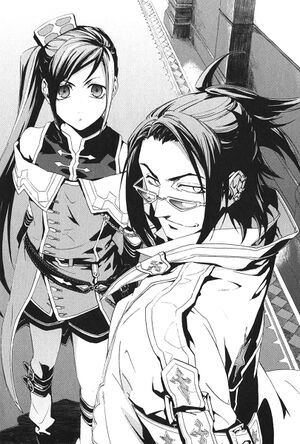 "Doesn't matter, since I can't go to the center of the festival."
"Uh?"
"That's what a festival is, isn't it? The battlefield that only the chosen can enter. Though I don't like it, I'm still part of the Ronsmier family."
"And then? Do you still want to play in the bush with guys you like rather than dance around the bonfire of the festival?"
"If it's interesting."
"There are too many dangerous guys in this city who like to play with fire. I hate that."
"What do you think, Sensei?"
"What answer do you want?"
"Yeah, I shouldn't have asked."
He wasn't the type of teacher to solve a student's perplexity. No. This idea was formed because of her own willfulness. She walked out of the corridor after greeting Troyatte, yet he stopped at the same spot to look over Grendan as if replacing her.
Layfon Alseif.
Layfon Wolfstein Alseif. The young man who only had a one-year age gap with her. But he had obtained the acknowledgment that Claribel didn't have.
And......And......
"Do you still remember me?"
She really wanted to test him. To confirm it. Claribel pondered as she suppressed the two strong desires in her. If she were to follow her heart, where would she go?
◇

She realized she was alone after passing through the door.
Alsheyra did not follow. The door remained open. If anything happened, Leerin could escape immediately, but she felt it meaningless to support herself with that thought in this place.
The dim blue continued to stretch ahead of her.
But the atmosphere had changed. Something conquered this place. The air did not seep past the door to the outside but remained in here. It was so quiet.
This was the atmosphere that surrounded Leerin.
The only furniture in the room was a bed. An old bed. A bed with a rich bed-cover and ornate decorations. The bed sheet seemed to leak dim blueness as if it had forgotten the passage of time. Cushions were piled on the bed like a hill.
A girl slept on the bed as if she were crafted along with it.
The person in Leerin's dream was sleeping here. The girl Leerin had seen in Zuellni.
It was her, Saya.
Everything seemed to be like a dream, ready to disappear in any moment. Leerin wondered whether the sleeping girl before her would disappear or if everything besides the girl would melt into nothingness. This was probably what it meant to acknowledge this girl's existence. If Leerin didn't do that, she felt this girl could not live alongside reality.
She pressed a hand to her chest. Her heart beat intensely with tension.
Why was she tense? Because of the girl? Because she noticed she was about to step on a line that would never allow her to turn back? Because she was thinking of what was to come? Because she was thinking of the life of Leerin Marfes? Because once she crossed that line, she'd have to change her name to Leerin Eutnohl? Herder Eutnohl. Because she was to acknowledge this man as her real father?
Marfes. A name without any meaning. Her adopted father had given her this name. The name itself meant nothing. But it was a name given to enable her to enter the orphanage and forget her past, so she could keep on living. The name and its pronunciation meant nothing, but its existence was important.
Marfes. This name called forth her past. The life at the orphanage. The time with Layfon. Many things had happened. Sometimes it was sad, sometimes happy, sometimes difficult. She had felt contempt from people for being an orphan. The older brothers would protect the younger ones when that happened. The older sisters would encircle them with their gentle arms. Leerin also cared for her younger siblings after growing up. Layfon had replaced the fist, protecting the siblings with the achievements he made as a Military Artist. They were happy though time was harsh. So what if their parents weren't here? Many siblings had replaced them. They wouldn't lose to anyone. Besides, their adopted father was guarding them.
We had such happiness.
But it was destroyed.
No. Not Leerin, but Layfon.
Leerin believed it wasn't anyone's fault. She believed so. Even the reason behind Layfon's actions did not change her thinking, but she never thought another person would do the same besides Layfon.
Her brothers and sisters began to split apart after that. No, only Leerin and Layfon had been separated. Layfon had left for another city, and Leerin had entered another school, participating in the Student Council. She could only show up in the Dojo a few times because the school was far from the orphanage.
Did she regret it?
No way. She couldn't sink into regret and do nothing with her life. She didn't think it was Layfon's fault but she couldn't see her siblings anymore. And Layfon wasn't here. Leerin had become alone.
The name Marfes had this kind of background. Though it was rich with sadness, it was a name that had accompanied Leerin's growth. Was she to give it up? Give it up and inherit the name Eutnohl. This great yet meaningless name that could change her record?
She was now standing at a crossroad.
The girl was still asleep. Her tightly closed eyes seemed to await Leerin's decision.
Just one step. The problem was this one step. It was even heavier than Alsheyra's question. This step would decide everything. Once Leerin took this step, she could realize the determination she made in Zuellni. And if she was to take one step back, she could forget everything. She couldn't wrap everything up. She still had to rely on Layfon in the end. She came here because she hated that side of hers. Insult? Regret? These words sighed at her impotence. If she had held the attitude of those words, she wouldn't have walked into this place.
The destruction began in herself. Leerin Marfes destroyed her own identity just like Layfon Alseif blackening out his own past. Cracks began to run through her. The most delicate repair could not fix it. Leerin knew she couldn't ignore the cracks anymore.
She had already decided what to do.
".........!"
She bit her lips and took a step forward.
It felt hard to breathe. Tension was at its peak. Suppressing her irregular breathing, Leerin came close to the bed and bent down. The soft mattress supported her.
The time on the bed began to flow. Saya opened her eyes.
".........I had a dream," Saya weaved her words softly. The quiet voice was enough to make one shiver. Her transparent voice slowly seeped into the darkness.
"You were in my dream. Is this the continuation of that dream?"
Leerin didn't know how to reply. How? Perhaps Saya was trying to confirm for herself.
"No. That's not it, Saya. This is real. At least, it's real to me."
"I see."
Saya lightly breathed in as she lay on the bed. She then slowly sat up. Her delicate legs quietly moved, guiding her body to bend down beside Leerin. She suddenly hugged Leerin tightly. Her delicate fingers brushed away her hair. Guided gently, Leerin buried her head in Saya's chest.
"I offer you my most sincere atonement and gratitude for your painful decision."
"Don't say that........."
Leerin's throat shook. Saya understood her. At Leerin's appearance, she understood what decision she had made. What she had chosen and given up.
"I......I........."
Her throat shook, failing to give voice to her words. Leerin couldn't turn weak. That was how she kept encouraging herself. She had lived through everything. She had lived through it all by suppressing her cowardice.
"I'm sorry, but that's all I can say. No matter how much I say to you, no matter what expectations I hold, no matter how I defend them, it's all my personal wish. You've chosen a difficult life for that wish. I can say nothing but words of atonement and gratitude."
"But you........."
Though it's not something unreasonable, I understand. Though it can't be clearly expressed in words, I understand. Saya wasn't in a slumber to sacrifice anyone. Besides, even if Saya held no consideration for Leerin and anyone else, everyone could keep on living only because of her existence.
Saya didn't need to apologize at all.
"......You didn't have to say that."
"Really?"
Saya's hand was still on the back of Leerin's head. Her gentle fingers parted her hair and touched her scalp. Saya's voice was crisp. Her fingers were delicate. An aroma cut through the tip of Leerin's nostrils. Everything here was so real. The thin sense of reality shattered the wall of the dam Leerin had desperately built around herself, making her think this was all an illusion.
"Uu, uu......"
Saya gently caressed her head. All she did was repeat the motion.
"Um, Ah............"
Sound of crying flowed from Leerin's throat. The dam had burst. Even so, she kept holding it in. She had already decided not to cry. And she'd not lose even if she cried out loud. She couldn't let anyone see her like this.........
"Ah. Ahah......"
Saya embraced her, continuing to caress her head. It felt as if she was being caressed by an adult. She couldn't stop it anymore.
Leerin cried.

She felt light pain in her head. Her eyes were hot. It was a bit embarrassing but she felt more relaxed after crying. The traces of her tears on Saya's dress were unbelievably real, as if they could bring her out of her dream.
"Feeling better?"
".........Thanks"
She took the handkerchief from Saya. She felt ashamed as she felt the rich material but she still used it to wipe her tears.
It was all right now.
She had let Saya see her shameful side, but it was all right. She could pretend nothing had happened with this level of shame. The days to come would definitely be more difficult. Helpless, she might even do more shameful acts. Today's crying was nothing compared to the future.
"Then let us talk. I don't understand anything. This right eye wants to tell me something but I don't understand. About the right eye, you, and anything I don't know. Please tell me everything."
"All right. I understand," Saya nodded lightly and began the explanation.
It was something that happened a long, long time ago.
"In this world exists a place to realize a wish."
"A wish?"
"Yes. Once you arrive there, no matter what it is, including what you are not conscious of, the thing that hides in the deepest corner of your heart, even that wish can come true."
"Even those things........."
"We call it the Zero Territory. The earth was once in a huge crisis. A huge war exploded across the world so a device was made to create Subspace in order to replenish the lack of resources. The Zero Territory was discovered as a result."
"The earth?"
"That was the origin of this world. Cracks appeared in the space that the earth was in because of the birth of Subspace. Subspace's role is to expand the world. Its effect allows different spaces to overlap that never touch each other. This world is also part of it. But because something unusual had happened in Subspace, cutting it off had become the deciding factor for survival. On one hand, Subspace has to maintain its shape as a space. On the other hand, it has to guarantee the amorphous interior, that is the Zero Territory. This all led to the splitting of the world."
"What came next was the era of humans living in Subspace. The earth originally belonged to them, but they did not know of it. They continued living and spreading in Subspace, not knowing what was happening to others.
An experiment was carried out during that time.
It was an experiment called the 'Severed Space Investigation Plan'. It was a plan to investigate the Zero Territory in order to find out the reason behind the cutting off of the world and another deeper problem – the Aurora atoms leaking out from the Zero Territory that cause changes in the human body."
"Airen was one of the people in the team. He's the true owner of your right eye."
At that time, Saya was in Zero Territory.
"Unlike him, I was born in another space. I was one of the people of another culture. But because of Airen's discovery and the interference with the Zero Territory, I gained the same form of the young sister that person had lost."
"Younger sister.........? And then?"
Could it be that the Saya Leerin saw in Zuellni was another Saya? Saya gave confirmation to her suspicion.
"Yes. Nelphilia. That person's sister's name."
That child Nelphilia had accidentally fallen into Zero Territory. The limit of Subspace also came to a breaking point following the passage of time.
"Then, was her wish realized?"
"Yes. It should have been destroyed at the same time but that didn't happen."
"Destroyed?"
"The wish of a human is not perfect. But to put it in perspective, people can keep on living to realize unreachable wishes. However, an imperfect wish can come true in Zero Territory, giving form to its imperfection."
Everyone was the same. They would fall into an exhausted state after experiencing the joy of seeing their wish come true.
Or it might be a feeling of despair at understanding the ugliness within oneself.
Witnessing the self that headed for destruction because of imperfection.
"People who lose their vitality in Zero Territory would immediately die. The state of the heart is closely tied to one's existence. Even a machine reflects its maker's heart, so many people died. I was born to bring hope amidst destruction, so I didn't die in Zero Territory. But that space is extremely dangerous to people. But Nelphilia lived. Airen too."
"Why could the two of them survive?"
"This is only a guess, but Nelphilia probably wanted more people to acknowledge her beauty. Her definition of power is to have many people obey her. Her wish is limitless. I think she understood the limit that the Aurora atoms imposed on the realization of a dream and she took advantage of it. Next is Airen. He didn't know his sister had changed. He participated in the plan to save his sister. After that, the wish of that person came true according to the rule of Zero Territory. At the same time, my heart resonated with him as I wanted to complete my mission, so I obtained the form of his sister. That person's wish was for his sister to escape and for him to obtain the power to protect her so she wouldn't encounter a similar event. That was how we escaped Zero Territory."
"Wait a minute........." Leerin said.
Something felt strange.
"So the Zero Territory can realize one's dream?"
"Yes."
"But Airen's wish hasn't entirely come true. Wasn't his sister in the Zero Territory? Why didn't she herself appear?"
"The Zero Territory cannot do everything. If Airen had known she was there, things would have turned out differently. But it didn't happen. Zero Territory only listened to that person's wish and made it come true in its own way. It can't distinguish what's true and false. The Zero Territory is not a system with that level of consciousness. It simply exists to give form to a wish. Same as the meaning of the words, it grants the form. I became like this because I was accidentally caught in it."
"So all that Zero Territory makes true is false?"
"Only the person himself can tell whether it's true or false. Besides, only he himself can tell whether the fake can satisfy his wish."
Leerin breathed in deeply as she looked at Saya. Her false form came about from Airen's wish. She wasn't the sister he wished to see. Had Saya been worried about that? Perhaps she's still worried. Because she's always been waiting for the person named Airen.
"Sorry."
"It's okay. Let us continue."
The plan to investigate the Severed Space fell through. Airen escaped together with the experimental object, Saya. They then met the scientist who opened the Subspace – Rigzario. The three of them began a journey. Rigzario had been traveling in order to fix the problems appearing on the Subspace device due to its overuse for a long period of time. But the wearing out of the device far exceeded her predictions. In the end, Rigzario was caught in the collapse of another world just like Saya and became another scientist hovering in Zero Territory. The result was the summoning of Ignasis into this world. Ignasis obtained his power in the Zero Territory and destroyed the device of Subspace in the name of experimentation, trapping millions of people in Zero Territory.
"How could........."
That meant death.
"His aim was to find the proof of souls and the paths of the people who disappeared in Zero Territory. Did despair really make people disappear? Had Severed Space really destroyed Subspace?"
"To get so many people involved just for that........."
"The experiment was a success. Though the proof of souls is not definite, the people inside Zero Territory still exist. The total collapse of Subspace has eliminated Severed Space. Ignasis should have created a passage connecting it to other Subspaces."
"Should have?"
"I was made to allow the people to take shelter from the collapsing Subspace. Those people who had been melted by the Zero Territory lived inside me, and I was to use Rigzario's device to give them new lives in a new Subspace."
"Do you mean this is it?"
"Yes, it's here."
That was how this world was born.
"But at the same time of creating a new Subspace, Zero Territory started invading Severed Space. Ignasis sought to destroy this world so Airen prepared some defensive mechanisms. He used the power in his right eye to seal the space where Ignasis and his followers were in. And that's.........the moon of this world."
"The moon......"
The moon hanging in the sky......had such a secret.
"But Ignasis didn't just sit on the dim moon and wait for his destruction. He hates this world and that hatred made this world inhabitable for humans."
"Pollutants."
"Yes. In order to combat the weapon of Ignasis that was strengthened after absorbing his hatred, Airen let his own genes descend from the moon."
"And they are Military Artists and Psychokinesists."
This voice came from a third party.
Leerin turned around and saw numerous masks had appeared behind her. Strange masks wearing the faces of beasts. Those masks lined in a row as if to decorate the wall of this space flooded with dim moonlight.
"I thought it already took you tremendous energy to open the hole in Zuellni's sky," Saya said faintly, replacing the speechless Leerin.
"Though many people live in this land, we have numerous comrades on this side of the sky. No matter what, this battle is our victory because in Zero Territory exists slumbering souls that far exceed the number of people in this world."
"Even so, you won't know the end result."
"........."
"Numbers mean nothing in Zero Territory. The so-called power of numerous souls only obeys a stronger consciousness. You people are an example."
"Then to prevent that strong consciousness from visiting Zero Territory, we can only fight in this world."
Bodies appeared one after another. They wore the same clothes and had the same form. They were the same as those that Nina fought in Myath.
In their hands held weapon of the same structure. They were like mirror reflections as they attacked together. The speed of the attack, the air and the shouts filled with murderous intent made Leerin shut her eyes tightly.
Though she had shut her eyes,
she could still see them.
◇

At that time, the one who was impacted was Nina.
She couldn't express the secret behind the creation of this world that Schneibel had revealed.
"Do you believe?"
"Is this a matter of believing or not believing?"
At least Nina had given some reply to the question. No one could tell why this world was born. Humanity lived matter of factly inside Regios, living in fear of pollutants and filth monsters that were outside the city. This was the world that Nina understood.
The ridiculous story of the creation of this world. It was neither an ambiguous myth nor something that the Alchemists had experimented on. Though it was grand, it was far from reach. It felt like a dangling story. But the story coming from the Electronic Fairies didn't feel like a lie.
"Electronic Fairies have no reason to lie to me. At least, all of you here believe in that story."
"Exactly," Grendan nodded, its long fur swaying, its cold and icy gaze staring at Nina.
"So has Grendan, the Lance Shelled City, been battling till now for that day?"
"I move the city in place of the slumbering Saya. One of Grendan's aims "to stop the end of war" matches my hatred. This increased the power of Military Artists and successfully gave birth to several outstanding Military Artists. Their combination increased the density of Airen's genes in their bodies. And then they were gathered in Grendan's three royal families to give birth to the most ideal person."
"The most ideal person?"
"Gather Airen's dispersed genes and make a copy. That is the purpose of Grendan's royal family. It was originally close to finishing but a mistake in the process has increased the time period."
Grendan did not reveal the identity of that person but he must mean the Queen. The Military Artist who surpassed all Heaven's Blade successors. She struck down the aged phase filth monster that Layfon and Savaris failed to defeat even though she was far away from the battlefield. Grendan's royal family had spent a huge amount of time to create such a powerful Military Artist. This must be it.
But the Electronic Fairies said it wasn't finished. Something was still lacking.
"Not everything was included in the predictions. Whether it could explain the problem that happened before or if it means there's still some time before adjustment is finished, I'm not sure," Schneibel said slowly.
"But right now a hole has opened in the sky of the Academy City. Its cause is eventually linked to the Lance Shelled City. Then it might not be the first battle but the final decisive battle. We have to act according to it. Nina. The child of Schneibel's knight. My child. Perhaps you might become the hope of the Electronic Fairies. As a creature that gives life to this world's lives and lives in this world, one cannot entrust the entire wheel of fate to this world's temporary dwellers. You will become the key or the first of the new generation or the helpless abandoned child who falls down in the wilderness. I'm not clear. But we now need new power as guardians of this world."
"You mean I'm the new power?"
"That isn't our choice, but yours and Melnisc's, the one who deeply knows this world's despair."
Nina looked at the Haikizoku, Melnisc. The golden goat kept silent, immobile.
"This choice appears like a dilemma to you who understands the limit of hungry wolves. But what we need now is not the flame of destruction but the blade of a guardian."
"........."
Melnisc remained silent. It stubbornly remained silent before the gazes of Schneibel, Grendan, Zuellni and Nina. It did not express clearly whether it was confused or resolutely refusing. Nina couldn't discern anything from the Electronic Fairy's expression.
".........I see. If you don't make a choice then Nina's reply would also be ignored."
"Uh?"
"Right now, you and Melnisc are in one body. It's meaningless if the two consciousnesses are not in agreement even though this situation is temporary. But I have to say this clearly, Melnisc. The limit is unclear. You also know confusion cannot create anything."
"I'll remember it, Great Mother."
Schneibel nodded at the goat's reply.
"Then let us observe the flow of time in Grendan."
Everything turned faint at the fading of the voice. The Electronic Fairies disappeared from Nina's eyes. Zuellni too, and Melnisc.
"Wait. I still don't........."
The Electronic Fairies ignored her. Their figures turned even fainter, gradually merging into the darkness.
"Zuellni."
"I'll definitely return."
The young girl hugged Nina's neck. Her figure slowly disappeared along with a tangible yet intangible feeling of vagueness.
"Wait. What do you mean by returning?"
But her surroundings were empty when she spoke. Her consciousness changed. Nina knew she was waking up from her dream.
Someone was staring at her.
".........Eh?"
"Ah, you awake?"
A stranger stood before the confused Nina. The person was smaller than her but Nina could feel this person had had a good education from her fine and delicate countenance.
"This is?"
She put a hand on her temple to calm her head. She had had a long dream and she still clearly remembered its content. Was it real? And just where was she now?
"Ah, don't remember? And I wanted to see just what kind of a person Lintence-sama has brought back."
"Ah......"
She remembered.
Leerin was taken away after Layfon was defeated in Zuellni. She had then chased after her. But reality had failed. She had obtained the Haikizoku's power and defeated the giants easily though the enemies had put them in a difficult fight. Still, that much power was not even worth mentioning before a Heaven's Blade successor.
(What a horrifying gap in strength.)
She didn't even manage to get one strike in.
"No need to be so sad. Lintence-sama is special even among Heaven's Blade successors. No other Heaven's Blades can defeat him."
Must be comforting me. Nina looked at the girl. Her long hair was gathered together. The strands of white hair mixed in her dark hair stood out clearly.
"Ah, I'm Claribel Ronsmier. This is Grendan's palace. What is your name?"
"I'm Nina Antalk. A student in Zuellni."
Claribel clapped her hands as Nina gave her name.
"As I thought. And I thought you were a Grendan Military Artist that I didn't know."
"Was I captured?"
Nina reached to her waist but the Dites were missing from her weapon harness.
(This is only natural.)
"Are these your Dites?"
"What!"
She was speechless at the two Dites next to her bed.
"Wasn't I caught?"
"Who knows? Her Majesty didn't say anything and she didn't arrange anyone to monitor you. But if you do anything you'll get caught by Kanaris-sama."
"Even so, to not take away the weapons is a bit........."
"Then show me how much you can do? Either way, it's my first time meeting someone possessed by a Haikizoku."
"!"
"Ahah, sorry. I know a bit of it because of my identity."
"Does that mean it's ok even if I escape to the outside?"
"As you wish. You have freedom as long as you don't cause a commotion. But I don't think it's possible to escape. Either way, this is Grendan's palace. The home of monsters."
The anticipation sparkling in Claribel's eyes made Nina shiver. Her gaze was enjoying watching Nina's actions and anticipating the coming of chaos.
".........What're you doing here?"
The sudden sound of disapproval wasn't surprising. Rather, this rare question of common sense made Nina feel more at ease.
It was an elegant man with perfect long black hair. Nina wasn't sure but she felt this man was similar to Claribel. And this person was watching her in surprise.
There wasn't the sound of a door opening. Nina also didn't feel his presence when he came in. He wore a weapon harness at his waist. This man was a Military Artist, and he was powerful.
"You too. What're you coming here for?"
"Tigris is looking for you. He thinks you might be being naughty again."
"Ah, as expected of my grandfather."
"So it's true."
An even more surprising expression on the man's proper face.
"Can't say something like "don't think of it" under this situation. It's all right since all Heaven's Blade successors had a chance to show their strength but we don't have that chance."
"Take care of what you say. You're the inheritor of the Ronsmier family."
"Someone from my grandfather and grandmother's family can inherit even if anything happened to me, since grandfather has many children."
"How surprising."
"I think you are the one with the problem since you don't feel a thing."
The man's face showed an expression of one being given no choice at the younger person's words. Claribel looked at Nina.
"I forgot to introduce. The one over there is Minse Eutnohl. My......Uh, though we're not of the same seniority in our family, it's annoying, so please just treat him as my older cousin."
"Is she the one possessed by the Haikizoku? Her Majesty should have already taken away the other person," Minse said.
"Who knows? I don't know where Her Majesty has taken the other person to."
"Damn."
"Speaking of which, Layfon seems to be in that city. What would you do?"
"If I see him I'll have him die."
"I know."
"......Hey, you knew already?"
"Of course. I'll deliver the message as it is. What about you?"
"Since that's all I can do."
Minse left with anxiety on his face.
"That person had a bad experience because of Layfon. He holds a personal grudge but that's his own fault."
Nina was shocked at her mentioning Layfon.
(Yes. This is Grendan. The city that holds a painful past for him.)
She hadn't had the time to tidy up her emotions because of Savaris and the invasion by filth monsters. Why had she become so gloomy?
"You know Layfon, don't you?"
"......He's in my team."
No point hiding it.
"Then you should understand the current Layfon. Ah~~ but it still isn't good enough to compare with the past. As I thought, it's better to just see him face to face."
"What are you planning to do with him?"
"Do you know why he left Grendan?"
"........."
"You knew."
"Wait, Layfon, that guy......Perhaps he did do something wrong but!"
"Don't worry. No one looks at him in contempt from the view of a Military Artist."
"Eh?"
Claribel laughed in a carefree manner before the numbed Nina.
"Her Majesty, the Heaven's Blades and us three royal families. We all knew the reason behind his actions. However, he let the citizens of this city know the horrifying power of a Heaven's Blade successor. They shouldn't have to know of it. Because that cannot be forgiven, we decided to exile him."
Claribel's words should be believable. Though Nina once was horrified at seeing Layfon eliminating the larvae on his own, her feelings had quickly turned into envy. But what would it be like if the witnesses of that scene were not Military Artists but normal citizens? Naruki's friend. What if that girl Meishen saw it?
"In truth, I think even Military Artists wouldn't think much if they were to see him again. The Heaven's Blade successors aren't interested, and the other Military Artists know of the gap of strength between them and him but it's better for him not to meet up with the ordinary citizens of the city."
".........Layfon can't see them."
"Uh?"
He can't meet with the city's citizens. He can't meet with the normal people. That reality heavily pressed down on his heart.
"He can't see his family."
Nina couldn't accept it after hearing the words even though she herself had experienced a sad past. Layfon only did it for the orphanage. He gave his all for his family. He ended in failure. They thought he had betrayed them and they hated him for it.
Did they still hate him now?
"I too can't understand how my family feels," Claribel said icily. "A bad deed will eventually be exposed. And this event that Layfon is associated with was easily discovered. No matter what he planned to do, he had to shoulder the result, whether it was good or bad."
"Yes, you're right."
She couldn't retort her theory because she herself had considered the same thing. She left her home, Schneibel, without considering her father's feelings.
"But the right discussion is only limited to a discussion. It can't be used for all cases."
Claribel looked out the window as if avoiding Nina's gaze. The top part of Zuellni's tower entered Nina's gaze.
Had Zuellni smoothly won through the crisis? No. It had a Military Artist strong as Lintence. And it must be safe now by the peaceful look of it. The problem now was that the city's leg was broken. Who knew how much longer it would take to repair it. And the next question was whether filth monsters would appear during the repair period.
Nina left the bed without thinking and came to the window.
"You haven't thought for yourself."
"Eh?" she turned around to Claribel.
"Wouldn't one worry about oneself in this situation?"
"Ah, ahah. That seems to be it now that you mention it."
"Or that you have the confidence to escape from Grendan?"
"It's not like that......"
There were too many things to consider. She herself didn't know where to begin. The Queen had said something was to happen in Grendan. And then there was the conversation of the Electronic Fairies she saw in her dream. A huge riddle was stirring. She wanted to solve it. Leerin was taken away. It was unquestionable for her to return to her own city as she was Grendan's citizen, but Nina felt something was hidden behind it. She also wanted to confirm this suspicion.
So many things had happened. She didn't know where to begin.
"Or do you want to see the things that are to happen here?"
"The Queen asked the same thing."
She lost to Lintence even though the Haikizoku was in her. Just what was she doing here? She felt impotent once she thought of it.
"I don't know what I can do now and I don't know what I should be doing. But I can't do nothing. Leerin's been taken away. Though she belongs here, it's normal for her to be taken back. But I can't accept the fact of her being forcibly taken away without reason. I want to know the reason behind it."
"This Leerin person is the one that Her Majesty has taken away?"
"Yes."
"What's her relationship with you?"
"She lived with me in the same dormitory and she's Layfon's childhood friend."
"Layfon? I see."
Here it came again. Nina's body turned stiff.
Claribel's meaningful words threatened her. "This means she grew up in the same orphanage as him?"
"Aah, they did mention it."
What's going on? She did say she didn't hold anything against Layfon for his crime but it seemed she held some other feelings for him.
"Then Layfon will definitely come," she said to herself.
She felt dangerous.
Claribel had said that the Military Artists wouldn't do anything to him. The Heaven's Blades weren't interested in Layfon. The other Military Artists wouldn't do anything since they knew the distance of strength between them and him. Then what kind of Military Artist would choose to confront Layfon? Claribel didn't look like a Heaven's Blade successor. She had mentioned the "three royal families" so she must be part of this city's government and she was a Military Artist.
Right now only she was considering a battle with Layfon.
But why?
"You and Layfon......" Nina didn't get to finish.
Sudden.
Suddenly, Claribel moved.
"!"
Nina had no time to react. Why did she reach out to the weapon harness? When did she restore the Dite?
Her arm was already next to Nina's face when she reacted.
"What're you doing being so sneaky?" the expressionless Claribel asked behind Nina.
The sound of dry splitting echoed in the ears. If Claribel's Dite was of a blade type then the blade must be in a spiral shape judging from the turning of the elbow.
Nina turned around and seeing what she saw, leaped away to restore her Dite. The heavy iron whips appeared in her hands.
A mask. A beast's face emerged from it. Claribel reached out to it. Her blade had cut deeply into the mask, splitting it apart.
Claribel's Dite was of a strange shape. The red painted part revealed the strong part where the blade had cut open the mask. The handle was like a glove protecting the fist, the fingers going through the four holes in the handle of the blade. Thorns were attached to the defensive part of the weapon and a small knife was attached to a side of the handle.
The shape was unique to her. It contained a strong sense of offense.
"Wolf Faces......"
A body was revealed behind the split mask. It toppled and melted into the air. Similar masks continued to appear before Nina. They wore the same clothes and held the same weapon. They stood in an orderly row like dolls in a mirror. All of them rushed for Claribel.
"You things are nothing in front of my Kochouenshiken (Bladed wing of the flaming butterfly)."
Claribel attacked.
Nina stood rooted on the spot.
Claribel rushed them. Her long hair that was tied back danced agilely in the air. The scarlet blade in her hand moved with innumerable changes. Its weight and speed varied according to her body movements. Death leaped as if it was dancing. The Wolf Faces who attempted to surround her had their masks shattered. They didn't even have to time to lift their weapons. Their arms were cut off and they fell to the ground to disappear.
Before one could breathe, she had eliminated all the Wolf Faces in the house.
"You can't even start a fire in this city," she murmured, bored.
"You too......" Nina's words stopped halfway. She couldn't think of a suitable word to symbolize the relationship she had with the Wolf Faces. Are you Dixerio's friend? Have you seen him? Is this a good way to say it?
"Aa, so you've seen them too?" Claribel ignored Nina's confusion. An innocent smile appeared on her face.
"I wonder whether all Haikizoku-possessed have this kind of special treatment? No, no. They are the enemies of the Electronic Fairies. You know of it, don't you?"
She asked Nina a question instead. Nina was speechless, not catching on what the question was about.
"I have a bond with them because of my blood. I somehow knew of their existence since I was little. But about blood, Minse that you saw before is also the same."
"That man too........."
She was surprised as Minse didn't look all that reliable.
"Her Majesty seems too pure so she can't see them. But she is better trained than us with this sensitivity so she might have been always opening and closing her eyes."
Nina knew of the Queen. Looking from the conversation between the Electronic Fairies, it felt strange that the Queen and the Wolf Faces hadn't yet clashed.
"Well, these useless fools seem to be on the move while we're chatting. Wanna go and clean up together?"
Claribel restored the weapon back to its Dite form and left the room. She wanted Nina to go with her.
"Eh? Hey."
Can she? She wanted to ask and stopped herself. This might become a good opportunity to escape.
She walked through the stone paved corridor, behind Claribel. The people walking past them all asked after Claribel with sincere attitudes but they coldly ignored Nina.
"I said already. Only Minse and I know of it. It'll become troublesome in many areas once others know. Do you understand? Anyway, this is trouble so I have to quickly tidy it up."
"You said to tidy them up but do you understand who they are?"
Nina only knew that something was to happen while she was in Myath. She knew of nothing else. She didn't even know the purpose of the hostile Wolf Faces. In the end, she didn't know what to do even when the event happened.
Wouldn't Claribel understand more compared to the Nina back then?
"I know. At least I know why they came to Grendan."
"Is, is that so?"
"But I haven't been to other cities through the En system so I don't know what they do in other cities."
"En?"
Dixerio seemed to have said the same thing.
"You can explain it as a communication system between Electronic Fairies."
"There is such a thing?"
"Otherwise how do they tell each other apart when cities fight?"
"......I see."
"Of course. I've heard of people using the En system to jump. I've never experienced it. You?"
"Once."
"I see. There really are people who can do it."
They walked out of the palace styled building as they chatted.
(I'm really out. Is it ok?)
She was worried since she was a captive but Claribel walked on the street, indifferent.
"Clara."
The sound came from behind them. Minse was walking from the direction of the palace.
"How many did you get?"
"The palace is quiet."
"Thanks for your hard work."
"The number is larger than usual this time."
"It's ok now. There probably will be a large-scale appearance later. What do you think they're aiming for?"
"To put it correctly, it should be the Inner Court. This time they seem to be targeting something more. Then there's only one thing to do."
"Her Majesty is in the Inner Court. Don't worry."
"Then what's left is above the ground. So troublesome."
"Yes. This is the key. I think it's better not to approach the Inner Court for now."
"What a coincidence. I think so too."
"For some reason, I think we'd end up making Her Majesty mad."
"So scary."
"Especially for you who has had that kind of experience."
"Nonsense."
Minse left this word and headed for a different direction.
"Fu......seems this isn't as simple as usual. Let's go on a serious patrol."
Claribel increased her pace as if she didn't care about Nina.
Nina hesitated for a split second. This was the only time to escape. They just said "The Queen is in the Inner Court." Then Leerin was probably there too. Leave Claribel here and save Leerin from the Inner Court. Can this be done? Problem is, where was the Inner Court?
(What should I do?)
Leave Claribel to search for the Inner Court? But she might become an enemy once she escaped. That is definite. Then let's rendezvous with Layfon who is coming from Zuellni and rescue Leerin together? That was the calmest judgment she can make under this situation.
(What should I do?)
She kept asking herself. Claribel continued to walk by herself. Has she not noticed me?
"Ah, that's right."
She suddenly turned around.
"I won't chase after you even if you escape. Compared to that, other Military Artists will probably hunt you down? There are serious guys among the Heaven's Blades. Their subordinates should be monitoring you."
"........."