Ore no Kanojo to Osananajimi ga Shuraba Sugiru
Jump to navigation
Jump to search
Project Status: STALLED

This project has not been updated in the past 6 months.
Help revive this project by joining the translation team! — Learn more about Baka-Tsuki activity status.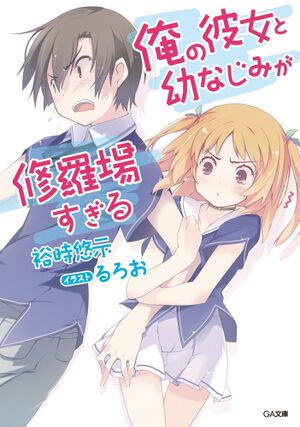 The light-novel series Ore no Kanojo to Osananajimi ga Shuraba Sugiru (俺の彼女と幼なじみが修羅場すぎる short "OreShura", lit. "My Girlfriend and Childhood Friend Fight Too Much") is written by Yuuji Yuuji, illustrated by Ruroo and published by SoftBank Creative under their imprint GA Bunko.
A manga adaptation drawn by Nanasuke started serialization in June 2011. A spinoff manga drawn by Inase Shinya based on scenarios provided by Yuuji Yuuji, and also a 4-koma written and drawn by Marimo, started serialization in October 2011. Early in 2013, a new manga spin-off titled drawn by Mutsutake was serialized.
Also two drama CDs have been released by HOBiRECORDS in 2011.
An anime adaption by A-1 Pictures consisting of 13 episodes aired between January 6 and March 31, 2013. It covered the first 4 volumes.


---

The Ore no Kanojo to Osananajimi ga Shuraba Sugiru series is also available in the following languages:
Note: Translation progress varies for each version.


Story Synopsis
Kidou Eita enters high school with the aim to attend medical school. Due to his parent's divorce and his intention to maintain his grades, he shuns anything to do with romance or love. One day, the school beauty Natsukawa Masuzu invites him to walk home with her, though he initially refuses. After she continues to do this for several days, he gives in and walks home with her. Masuzu is tired of constantly getting confessed to by boys, so she suggests that she and Eita become a fake couple. Although Eita tries to refuse, Masuzu blackmails him into becoming her boyfriend in name only. News spreads fast within the school of the new couple and Eita's childhood friend, Harusaki Chiwa, begins to confront Masuzu for Eita's affections.
Updates
October 25th, 2015 - Volume 7 Chapter 14 Completed
November 4th, 2015 - Volume 7 Afterword Completed
November 22nd, 2015 - Volume 8 Chapter 0 Completed
December 11th, 2015 - Volume 6.5 Chapter 3 Completed
January 5th, 2016 - Volume 6.5 Chapter 4 Completed
February 1st, 2016 - Volume 6.5 Chapter 5 Completed
March 25th, 2016 - Volume 6.5 Chapter 6 Completed
May 18th, 2016 - Volume 6.5 Chapter 7 Completed
January 10th, 2017 - Volume 6.5 Chapter 8 Completed
June 4th, 2017 - Volume 6.5 Chapter 9 Completed
October 9th, 2018 - Volume 8 Chapter 1 Pending Proofread
All updates can be found here.
Formalities
Registration
Those who wish to contribute are asked to first notify a supervisor beforehand.
Translators are asked to register which chapters they're working on.
Format Standards
Every chapter must after editing conform to the general format guidelines.
If you enjoyed the series, why don't you tell us in the Feedback Thread?


---
Project Staff
Supervisor:
Project Manager:
Translators
ACTIVE
INACTIVE
Editors
ACTIVE
INACTIVE
Series Overview
Ore no Kanojo to Osananajimi ga Shuraba Sugiru 俺の彼女と幼なじみが修羅場すぎる (February 28th, 2011) ISBN 978-4-7973-6396-8
Ore no Kanojo to Osananajimi ga Shuraba Sugiru 2 俺の彼女と幼なじみが修羅場すぎる2 (June 30th, 2011) ISBN 978-4-7973-6561-0
Ore no Kanojo to Osananajimi ga Shuraba Sugiru 3 俺の彼女と幼なじみが修羅場すぎる3 (September 30th, 2011) ISBN 978-4-7973-6678-5
Ore no Kanojo to Osananajimi ga Shuraba Sugiru 4 俺の彼女と幼なじみが修羅場すぎる4 (December 31th, 2011) ISBN 978-4-7973-6815-4
Ore no Kanojo to Osananajimi ga Shuraba Sugiru 5 俺の彼女と幼なじみが修羅場すぎる5 (July 31th, 2012) ISBN 978-4-7973-6971-7
Ore no Kanojo to Osananajimi ga Shuraba Sugiru 6 俺の彼女と幼なじみが修羅場すぎる6 (January 31th, 2013) ISBN 978-4-7973-7284-7
Ore no Kanojo to Osananajimi ga Shuraba Sugiru 6.5 俺の彼女と幼なじみが修羅場すぎる6.5 (February 28th, 2013) ISBN 978-4-7973-7284-7
Ore no Kanojo to Osananajimi ga Shuraba Sugiru 7 俺の彼女と幼なじみが修羅場すぎる7 (February 15th, 2014) ISBN 978-4-7973-7555-8
Ore no Kanojo to Osananajimi ga Shuraba Sugiru 8 俺の彼女と幼なじみが修羅場すぎる8 (July 14th, 2014) ISBN 978-4-7973-7734-7
Ore no Kanojo to Osananajimi ga Shuraba Sugiru 9 俺の彼女と幼なじみが修羅場すぎる9 (January 15th, 2015) ISBN 978-4-7973-8264-8
Ore no Kanojo to Osananajimi ga Shuraba Sugiru 10 俺の彼女と幼なじみが修羅場すぎる10 (December 12th, 2015) ISBN 978-4-7973-8324-9
Ore no Kanojo to Osananajimi ga Shuraba Sugiru 11 俺の彼女と幼なじみが修羅場すぎる11 (June 15th, 2016) ISBN 978-4-7973-8751-3
Ore no Kanojo to Osananajimi ga Shuraba Sugiru 12 俺の彼女と幼なじみが修羅場すぎる12 (November 11th, 2016) ISBN 978-4-79738829-9
Page ID: 17310 (17310)