Baka to Tesuto to Syokanju:Volume3.5 Me and Shouko and Kisaragi Highlands
Jump to navigation
Jump to search
Me and Shouko and Kisaragi Highlands
[
edit
]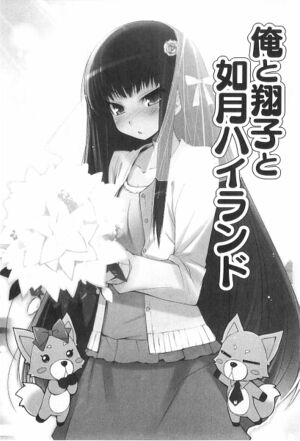 "Akihisa."
"Hm? Yuuji, what's up?"
"I just thought of it, what will you do with those tickets?"
"Those tickets—are you talking about the free Kisaragi Highlands tickets?"
"Yeah, I remember that they have some trial run before they fully begin operations. Why don't you get Himeji to come along?"
"Wha, what are you saying, Yuuji!? If we use those tickets, the Kisaragi corporation will use all of their power to force us to marry each other! Wouldn't Himeji-san be pitiful if it ends up like this?"
"That's sort of true. They did try their best to come up with that omen of 'any couple who goes there will gain happiness'. They will probably put in lots of effort to make that a reality."
"Mmm, that's the case."
"However, I don't think Himeji will refuse."
"...Eh?"
"Well, if you summon your courage and try to ask her out, I don't think she will really refuse."
"Ah, ahhahaha, here we go again. Yuuji, you really love to make fun of me~ how can I possibly get married to Himeji-san? That's totally impossible."
"Uuu~ since you said so, I'll leave it at that. Then, if you're not going, how are you going to use those tickets?"
"I just so happen to know someone who's about to get married, so I'll just send the tickets to that person."
"Oh yeah, if someone wants to get married, the tickets will work extremely well. And if they can get married successfully, Kisaragi Corporation will be extremely happy."
"Yeah, if it's successful, everyone will be happy."
"Are those two who're getting married getting along well?"
"Nn, they just need an opportunity."
"I see, it'll be great if they can get together."
"Don't worry. They'll always be together."
☆

On a certain holiday morning, the sunlight that seeped through the gaps of the blinds and the chirping of the sparrows woke me from my dream.
When I woke up—
"...Good morning, Yuuji."
—I found Shouko standing beside my bed.
"...The weather's nice today."
Shouko pulled the blinds, causing the sunlight to shine brightly into my room.
"Hm? Ahh, seems good."
The overly bright light caused me to narrow my eyes as I closely inspected the figure of my childhood friend.
As today's a holiday, she's not wearing the school uniform. The top was a white long-sleeved knitted coat with a thin pink shirt underneath, and matching them at the bottom was a light knee-length skirt. The piece of cloth meant to hide the interior of it should be called an underskirt, right? Shouko would normally wear a T-shirt and jeans or shorts, so it seems like she deliberately dolled herself up today.
I'm totally shocked that I actually checked through Shouko's attire, since it's not in my nature. Maybe I haven't woken up, right?
I shook my head hard to get rid of the sleepy sensation, and then turned to look at Shouko.
"I haven't greeted you yet. Morning, Shouko."
"...Nn, morning."
I pulled my blanket aside and got off the bed.
Speaking of which, why did Shouko come to my room? Do I have a date with her or something?
I started to rack my just-woken-up brain—no good, I couldn't remember anything.
Since I couldn't think of anything, it meant that I didn't have a date with her, right? I see.
"Sorry, Shouko, pass me my handphone."
"...Are you going to make a call?"
"Mm, yeah."
After receiving the phone that Shouko passed over, I pressed a few buttons.
If this person is in my room, this means—
"Ah, hello? Is this the police station?"
SHE'S AN INTRUDER!
☆

THOMP THOMP THOMP THOMP THOMP!! CRRRAAAAKKKK!!!
"MOM! TELL ME WHAT'S GOING ON HERE!!"
"Oh my, Yuuji, good morning."
After rushing into the kitchen, I saw my mom standing at the basin as she washed the dishes, even saying good morning to me energetically.
"WHAT MORNING!? WHY WAS SHOUKO IN MY ROOM!? I ENDED UP BEING TREATED BY THE POLICE AS SOME DELUDED MANIAC THAT CAN'T TELL WHAT'S 2-D AND 3-D!!!"
My childhood friend came into my room and woke me up—when I said that, the reaction left a pain that won't ever be erased. What I can say is that even if I overslept, this is the greatest mistake I ever made in my entire life!
"...Eh?"
Hearing my complaints, those wide eyes of my mom blinked quite a few times. She's almost 40, and yet this look was just like a kid's. Maybe it's because of this natural doll-like face that my mom looked a lot younger than what she really is. 'People often mistook me for a college student'—that's what she herself said. However, my dad and I don't believe this even one bit. No matter what, she can't possibly be seen as a college student.
"You were talking about Shouko-chan?"
Mom placed her hand on her face as she said that with a bothered look on her face.
Seeing her attitude...did Shouko sneak into my room? Mom didn't help out? If this were the case, I may have failed to think things through when I roared at her.
"Ahh, nothing much, sorry for shouting at you early in the morning. I thought that mom helped her enter my room—"
"Really, Shouko-chan's too naive. I helped her create this opportunity, yet she didn't do anything; that's really a pi—oh my, Yuuji, why are you grabbing onto your mom's face?"
"SO YOU'RE THE ONE WHO DID THAT!!!"
Seems like I have to educate her on the common sense a mother should have.
"...Yuuji, you can't bully mom."
"Shouko, don't say it. As a son, I have to re-educate this mother."
Appearing later, Shouko tugged my arm as she tried to stop me. Speaking of which, it's rather weird when Shouko just said 'mom' with a different tone. However, I guess I shouldn't retort back at her for my own safety.
"...if you don't listen, I'm going to read this book with mom."
Shouko pulled out an A4-sized book. Hm? That book...don't tell me—
"Hold, hold on a minute! That's not what girls should be reading! Hurry up and return it to me!"
Why on earth is it that book! That's the treasure trove that even Muttsulini would cry over! She actually found it! This is bad! Speaking of which, how did she find it? I hid it in a place that even my mom couldn't find it, even though she's living in the same house as me!
"Oh my, Shouko-chan, is that the secret book with the world history reference cover over it? Yuuji hid it in the double-layer 3rd drawer."
I have never been so envious of Akihisa's live-alone lifestyle like I am now.
"I, I got it. I'll let go of mom now."
I obediently let go of the death grip.
To actually force me to surrender with this trick. This is too despicable!
"...That's good. If so—"
Damn it! Once I get my book back, I'll hide it in a place where you two can't find it. I might as well lock it up in maximum security—
"...I'll only forgive you if you burn it."
"Sorry Shouko, but no matter what, that isn't what one will do after forgiving, right?"
Normally, if I'm forgiven, I should have my book back.
"...Then I won't forgive you even if you burn this book."
"Isn't there an option of not burning this?"
Though I have known her since elementary school, I'm occasionally unable to tell what the heck is going on in that person's mind.
"Hoho, you two still have quite the good relationship."
Having been released from the grip, my mom didn't look panicked at all. She washed the last dish and wiped her hands on her apron. Such a carefree mother.
"I don't think we have quite the good relationship here..."
"Oh my, is that so?"
My mom still showed a smiling face. This mother will most likely say 'oh my, isn't that interesting?' when she sees me knocked down by a car, right?
"Really, you two...speaking of which, what are you doing here, Shouko?"
"...Date."
"Date? Do I have a date with you?"
"...Mm."
As usual, Shouko nodded her head as she pulled out a small piece of paper.
That seems to be some sort of ticket. Let me see, that is...
"Oh my, isn't that the Kisaragi Highlands trial ticket? And it says that it's a free experience. It should be a special ticket right? You're amazing, Shouko-chan, to be able to get such a ticket~"
"...A kind soul gave it to me."
"Is that so? That's great~"
"...Yuuji, who're you calling?"
"I got something to say to some scum."
I first shut off the incoming display number of the handphone, and then dialed Akihisa's number.
After a few seconds of dialing, that damned despicable foe picked up his phone with a casual tone.
"Hello hello? Who're you looking for?"
"...............................I'M GOING TO KILL YOU."
"Eh? What! Who are you? That's really scar—(cuts off)"
After hearing the extremely awkward voice from the phone, I silently cut the phone line. At least I feel better now.
"...Let's go, Yuuji."
Shouko grabbed my hand. Seems like she really wants to go.
"I don't want to even if I die."
However, I definitely can't fulfill this wish of yours.
If it were just an ordinary trip to a theme park, I might consider it a bit. However, that's an activity that Kisaragi Corporation planned, there's definitely something dangerous about it.
If I'm to go along with Shouko and drop into their trap, I'll definitely be forced to to get married to her. No matter what, I have to prevent that sort of thing from happening!
"Oh my, why are you so unwilling, Yuuji? Just go out and play with Shouko."
My mom, who didn't know anything at all, said it as if it were so easy.
"Obviously, I don't want to go because of many reasons."
Only a few people, including Akihisa and me knew of the Kisaragi Corporation's plan, and even Shouko, who's from the same school didn't know anything about it. If she's to know of something like 'mobilizing the entire power of Kisaragi Corporation to force two people to marry', no matter what kind of dirty tactics she'll use, Shouko will definitely force me to join in, because she's that kind of a woman.
"...I want to go with Yuuji."
It's been about 7 years since this person started to show her affections for me. No matter what I say, she wouldn't budge. In a certain sense, I really have to respect that unwavering will of hers.
That's the case, but I have to refuse, or else I'll really be forced to get married. No matter what, I don't want to marry in High school; I want to enjoy a few more years of my free life.
Okay, since this can't be helped, I'll have to say clearly 'Shouko, you better give up'. Thus, I take a deep breath, and then say—
"Shouko."
"I don't want."
"You better give—"
Too fast! Way too fast! I only said her name!
"Shou, Shouko! Listen to me first..."
"...If you don't want to go no matter what—"
Overpowering my incomplete words, Shouko pulled out a small booklet from her bag.
"...choose one."
What Shouko pulled out was a marriage location recommendation book.
"Sorry, I have no idea how we ended up like this."
"...You swore to me before that we'll get married if you break our promise."
Why do I feel that the content of the promise was changed?
"Mommy feels that it's good to go overseas and get married, like Hawaii or some other foreign country~"
"Mom, why aren't you caring about what your own son thinks!?"
"...Yuuji, choose one. I'm going to book the venue."
"Ah, Europe seems rather good. Yuuji, which one do you think is good?"
"Uuu..."
No matter what I choose, it doesn't seem like I can avoid the issue of marriage. This scenario's way too precarious. But I'm not going to crumble due to this level of difficulty. Got to find a way to get away from it!
☆

"...I'm really too useless..."
After spending more than 2 hours on the train and on the bus, Shouko and I finally arrived in front of Kisaragi Highlands.
This, this couldn't be helped! If it's just Shouko, fine, but even my mum agreed to us getting married enthusiastically! I had to get away from that delicate, yet hard to define atmosphere! Who can blame me right now!?
"...We're finally here."
Shouko wasn't even hiding her delight as she stared at the theme park in front of her.
Okay...seeing her so happy like this, guess it's worth bringing her here. Mm hum.
"Okay, Shouko, since we're already here—"
"...Mn."
"Let's hurry up and go back."
CRACK.
"...No, I must go in."
"Hahaha, Shouko, my arm won't go in that direction."
My arm got clamped down forcefully as I told Shouko while giving off cold sweat.
Damn it, my fingers are getting numb.
"...This is what couples will do."
"Hold on Shouko! Are you thinking that this intimate act of holding hands isn't any different from surrendering?"
"?"
Seeing her head full of question marks, this woman's way too terrifying. She probably thinks that all the couples in the world will lock their arms together in order to keep their lovers around
"...Anyway, let's go in."
"GUH! At least release my hand before going! My arm will really get twisted if this keeps up!"
As my left arm got taken as a hostage, I got dragged by Shouko to the entrance. Since today's a trial operation day before the real opening, we didn't wait long before arriving in front of the attendants.
"Welcome to Kisaragi Highlands!"
This youngster doesn't look like he's Japanese, since he's smiling at us while saying that in a weird tone. He looks like an Asian alright, but I don't know if he's Japanese.
"Today's our trial day. Do you two have an entrance ticket?"
"...Yea."
Shouko produced that ticket from her pocket.
"Sorry, please excuse me."
The attendant looked back at us after seeing that coupon, and the smile that was on his face was instantly frozen.
"...Can't this ticket be used?"
Seeing the attendant's expression change, Shouko starts to look rather worried.
"Nonono, this ticket can be used. However, please hold on~"
The attendant immediately whips out a handphone from his pocket as he starts to make a call to someone.
"—It's me. Those two are here. Prepare the wedding now, I'll think of a way to stop them."
"Oi, hold on! What's with those inappropriate words!"
The youngster's expression immediately became rather scary. Is he a worker of that damned corporation that started all these?
"...Prepare the wedding?"
Shouko tilts her head in bewilderment. Since she doesn't know of what Kisaragi Corporation is planning, she must be feeling puzzled after hearing that 'Prepare Wedding'.
"Please don't mind, this is just a logistics problem."
The attendant reverts back to his original smile in order to hide the situation, but no matter how I look that it, it's just too strange.
"Oi, wasn't your Japanese really fluent when you were talking on the phone?"
"O~ uu, Japanese is really tough, I don't know what you're saying~"
This guy really bugs me.
"Speaking of which, there's no need to prepare whatsoever wedding. Just let us go in and don't bother us."
Thanks to the phone call just now, I know what they're planning. However, I'm not planning on letting them do whatever they want. If not, my entire life will be...
"Don't say that, please like us handle this and prepare a super duper wedding for you~"
"No need."
"You must allow us no matter what."
"No."
"Please?"
"I refuse?"
"If you refuse, I'm going to send some rotten crayfish to your house!"
"NO! Our family will get food poisoning if that happens!"
My mum will definitely think that those are Ise shrimps. To actually make such a terrifying threat, this damned fake foreigner!
"Then, let's have a commemorative photo."
"...Commemorative photo?"
"Yes, this will be a super matching imprint of a couple's love~"
"...Yuuji and I...match each other (blushes)."
Shouko started to blush because of this fake foreigner's nonsense.
"Sorry to keep you waiting. I have the camera here."
At this moment, another worker's holding onto a camera with one hand as his cap is lowered.
Hm? I seem to have met this guy before. Isn't it too suspicious that he lowered his cap deliberately?
"You specially brought the camera here. Sorry to bother you, you've been a great help."
The fake foreigner thanked as he received the camera. That's really suspicious! They aren't convenience store workers, is there a need to be so polite to each other in a theme park?
—Hm, let me try this.
"Sorry, I'm going to make a call."
"Okay, please."
I pulled out my phone and call this huge idiot named 'Yoshii Akihisa' while not showing my number.
Prrrr Prrrr.

"Ah, sorry, my phone rang."
Once the phone rang, the butt pocket of the guy who brought the camera over rang.
Success!
"Yo~ Akihisa, you sure found it interesting, right?"
"You got the wrong person!"
Dash!
"Ah, damn it! You dare to run away? Let go of me, you fake foreigner!"
"He's one of our workers here, the name's Elizabeth Hanako (35 years old), also known as Steve. He's definitely not called Yoshii or something,"
"Shut up! You actually came up with such a ridiculous name and age without flinching! And no matter what, that sort of name can't possibly be called Steve! Speaking of which, I never called that guy by his surname Yoshii, right?"
Akihisa got away while I was held up by the fake foreigner.
That damned Itsuki's definitely trying to set me up...what is he treating my life as! Is he thinking about payback?
But isn't it too much to actually act as a worker here? This doesn't seem like Akihisa's working alone.
That old granny---let me repeat that again, the principal helped out as well, right? Since that damned old granny's indebted to him, she probably won't refuse.
No, not just the old granny, even the rest should be involved.
"Sorry Shouko, but just endure this for a while."
"?"
I reach my hand out to grab the stunned Shouko's skirt and lift it up slight—to the length where her underwear can be seen.
"...(Flash)!"
At that moment, from the corner of my eyes, I caught a figure reach his arms and clutch in front of his chest
—Anyway, it's just a guy who's wearing a fox costume.
"To reach his arms quickly in and clutch in front of his chest for a digital camera...even Muttsulini's here?"
After exchanging glances with me, that fox mascot immediately disappeared agilely like a rabbit.
Since Akihisa and Muttsulini are around, then Hideyoshi and and Himeji should be around somewhere. Really, these guys...why are they so tireless when it comes to other people's misfortune!
"...Yuuji, ecchi."
Just as I'm wondering how to punish them, I noticed that Shouko's staring at me rather angrily.
"What? You, you're mistaken! I'm not interested in your underwear at all!"
"...I'll be bothered if that's the case."
"GUUAAHHH!! THAT'S COMPLETELY UNREASONABLE!!!"
Shouko stretched her arm and grabbed my skull.I seem to hear my own bone cracking.
"Okay, it's now time to take the photo. Say cheese."
The light start to flash nearby, and then an electronic sound can be heard.
"We'll print it immediately, so please wait for us here."
"...I know, I'll be waiting for you in this position."
"GUUAHH!! IF YOU MAINTAIN THIS POSITION, MY SKULL WILL..."
Born with an ever honest personality, Shouko didn't even let go as she continues to wait in this position.
Does she really like me?
"It's done. Please take this."
After a short while, the fake foreigner came back with the photo, and I got released.
"...Thank you."
Shouko received the photo over happily.
"...Look, Yuuji, this is our memory."
Shouko said this as she brought the photo right in front of me, who's coughing now.
"What's with this photo!"
The image taken was actually the back of Shouko's head and me being executed painfully. Also—
"I added a special touch for you, you know."
The special touch was adding a heart-shaped frame around our photo and adding the words, "We're about to get married".
Surrounding the woman who let out the claw of Heaven and the guy who was suffering because of it. To the unsuspecting folks, they should be wondering what happened between those two that cause them to end up in marriage...but no matter how I look at it, there can never be happiness between these two!
"Can I hang this up in our theme park photo room?"
"Are you still normal? What's the benefit of having such a photo as a decoration?"
Any customer who sees this will definitely retreat.
"...Are you embarrassed, Yuuji?"
"Sorry, but no matter how I look at this, this photo doesn't seem to warrant any need for me to be embarrassed."
Just as I was looking at this ridiculous photo and about to say this—
"Ahh! Someone's taking a photo! Let's get them to take a photo for us~"
"As a wedding commemoration photo of us? That's cool. Oi, you're a worker here, right? Help us take a photo!!"
The arrogant delinquent couple shouted as they head towards us.
"Sorry, but this couple is targeted by the corporation's plan..."
The fake foreigner refused. Seems like this photo is another scheme in the corporation's plan, and only we're entitled to it.
"What are you saying? Is there anything wrong with it? We're customers, you understand!?"
"Waa~ Ryouta's so cool~~"
The man glares angrily a the fake foreigner as he looks from below to top. Seems like this guy's really a delinquent. The woman's who's excited about this guy's roguishness probably has a screw loose or something.
"And our photo should be more attractive compared to those old-fashioned brats, right?"
"That's right, compared to that dumb guy, my Ryouta's 100 times cooler than him!"
Never mind, I'll slip away while that delinquent couple's distracted.
"....(tatatatata)."
"Eh Oi, Shouko, where're you going?"
I grabbed Shouko's wrist just as she's angrily charing that the couple.
"...Those two just insulted Yuuji."
"I say, you... If we're to bother about this, we won't be able to end this."
We'll definitely not end up with something good if we're to clash with those guys. Besides, no matter what they say, I won't even care about it. Just seeing them is enough to irritate me.
"Let's go, Shouko."
"...Since Yuuji said so..."
Seems like Shouko doesn't want to see them as well, as she followed after I told her.

"Ahhh! If you continue to drag on like this, I'll report to the media that your customer service is atrocious, you hear me!?"
"That's right~ we're customers!!"

The delinquent couple behind us continue to shout.
The promotional event actually got such customers here. Kisaragi Highland's really unlucky.
☆

"Okay then, let's go home after we walk around."
"...We must walk around happily."
Like what was advertised, the theme park has all sorts of the latest games, from the 3D-effects gaming equipment to the horrifying roller coast, coffee cups, carousels. There are even some attractions with things imagine even with the outer appearances.
"It'll be easier if there's a cinema somewhere here."
"...It's rare for us to come by, that won't do."
My proposal got rejected by Shouko. Though it's troublesome, I'm trying to find an attraction that won't make both sides awkward. At this moment, a mascot came to us while looking like it's going to fall. She seems similar to that fox mascot just now, except in a different outfit. And this one has a large butterfly knot on it, so it should be a female, right?
"Onii-chan, Phi Phi will introduce you to some interesting attractions!"
A youthful girl's voice can be heard from below the mascot, and it seems like it doesn't have a voice changer, since it seems like a normal person...or rather, this is a familiar voice. Am I thinking too much? Why do I feel that this sounds like a certain honor student from our class.
Seems like I have to check it out.
"Speaking of which, the female college student who's working part-time is dating Akihisa to a movie."
"Ehh, are you talking about Akihisa-kun? Where did you see that?"
These guys actually came here...
"Oi, Himeji! You're here to help?"
"Ah! You, you're mistaken! I—no, Phi Phi isn't called Himeji! As you can see, Phi Phi is a fox girl!"
To actually think of a way to force her way out of this, Himeji's a really serious person.
"Okay Phi Phi, then let's see you introduce the place."
"Ah? Oh, mm! Phi Phi recommends the haunted house directly opposite."
Himeji—no, Phi Phi stretched her hand out and points to a building on the other side of the fountain. Hm, so it's the famous haunted house that was built from an abandoned hospital?
"Really, thanks."
"No problems. Enjoy yourself."
"Oh, Shouko, let's go to 'some place other than the haunted house'."
I push Shouko from behind. The moment I said this, Himeji immediately pulled my wrist.
"Wai wai wai wai wait! Why are you not going to the recommended place!"
"You dare to ask me why! I can tell from you tone that there's some trap inside to make fun of me right? I'm not going to go on a suicide run."
No matter how good her grades is, Himeji really can't fool anyone. She immediately revealed their plan accidentally.
"I, I'll be really bothered! Please, please go there!"
"I refuse."
I don't want to sell my life away for just her request! I must refuse no matter what, I got a good freedom of youth ahead of me!
"Please~ you'll definitely find the ghost house interesting!"
"I, DON'T, WANT!"
I ignore Himeji, who's tugging at me. However, she continues to tug at me as I drag her. That's really troublesome. Just as I intend to shrug her away, something seems to be heading for us.
"End of the line, Yuuji—no, the ugly guy over there!"
"These dumb movements...is it Akihisa?"
Appearing in a dumb manner is the male mascot I just found. What the heck, a change of costumes?
"How rude! I—no, wait, since when is Noi Noi dumb?"
"Shut up! What's wrong with calling out an idiot who's wearing the mascot head the other way around!"
What's supposed to be a cute and cuddly doll now has its head turned backwards because of Akihisa, and now it's a bone-chilling creature.
"...Yuuji, Noi Noi's just a kid."
"Shouko, a creature that can put the head wrongly will be annihilated by society."
You'll die if you don't watch yourself. An existence like him can only exist at the bottom of the food chain.
"Ah, Akihisa-kun, your head's turned backwards! Ahh! The kids were crying once they saw you!"
"Wah, this isn't good! No wonder I can't see what's in front!"
"Hurry up and put the head properly, or Sakamoto-kun will find out!"
To think that you can actually fool me till now, these two are really a match for each other.
"Ah, sorry to keep you waiting."
An even more troublesome person is here—the fake foreigner from just now. To think that he actually caught up to us so quickly.
"Mr Sakamoto Yuuji, please head to the haunted house."
"Didn't I say that I don't want to!?"
I don't want to deliberately enter that dangerous place.
"If you refuse, I'll send a large amount of food to your house."
"Don't do that! If you do, my family's lives will be at risk!"
My mum won't even bother about what to do unless we finish up all the food. How can this guy be so vicious?

"Speaking of which, Akihisa-kun, who's the female university student who was with you? To think that you have the time to chase after other girls even during this important situation..."
"Eh? What are you talking about? I never—hm? Why are you taking you phone out? Who're you calling here?"
"I think Minami will be here soon. Before that, please explain clearly."
"No, no way! If there's a bloodshed incident on opening day, the ratings of this theme park will—GYYAH! I feel that someone's rushing at me angrily! I'll do anything, kneel, beg for forgiveness, just don't kill me!!"

The two fantasy creatures are having a couple's quarrel. What an unbelievable scene.
"Miss Sakamoto Shouko, you may hug your boyfriend when you enter the haunted house in any way that you want."
"...Yuuji, I want to go."
"You're really despicable. Actually thinking of using Shouko to force me into the trap! And who asked you to randomly change Shouko's surname! Her surname's Kirishima!"
"...Don't worry, it'll become Sakamoto soon."
Without noticing it, Shouko again controls my arm. If so, I can't resist!
"Okay, then please sign here."
The fake foreigner pulls out a document and a pen. What's this?
"Just an ordinary consent form."
We're just entering a haunted house. Is there really a need to sign a consent form? Is it really that dangerous inside?
"Seems interesting."
Since there's a consent form, it should mean that there's something that's really scary inside. Maybe it's really interesting.
I'm starting to feel a little interested as I get ready to sign that consent form with the ball-point pen.

'Consent form'
1. I—Sakamoto Yuuji swear to take Kirishima Shouko as my wife, through thick and thin, loving each other for the rest of our lives. 2. I swear that we will get married at Kisaragi Highlands. 3. No matter what happens, I will never leave Kirishima Shouko.

"...Here, Yuuji, here's the seal."
"The inkpad's here."
"Am I the only one? Am I the only one who finds this completely ridiculous!?"
These guys are crazy!
"That's a joke. There's no need to sign this, you can just go in."
"...mn, just joking."
"You guys prepared the carbon papers, and you actually dare say that you're joking!"
I really have a lot of things to say, but isn't their common sense too cruel or something?
"It'll be rather inconvenient to bring that huge bag around. I'll keep it for you."
"...Sorry to bother you."
Shouko hands her bag over to the fake foreigner. Speaking of which, her bag's really huge.
"...The contents inside may spillover, so please don't put it horizontally."
"You're talking about this bag? I understand, please don't worry."
Spill out? What's inside that bag?
"Then enjoy to you heart's content."
"...Let's go, Yuuji."
"OWOWOWOWOW! MY ARM'S GOING TO GET TWISTED BY YOU!"
My resistance ends up useless, and after a while, I got dragged by her to the entrance of the haunted house. Did they deliberately try to create the atmosphere? The haunted house has automatic sliding doors, but there's not a single light inside. It feels like someone's making some moves.
"It's me. The prey has already entered the haunted house. We'll start with the plan that Mr Yoshii came up with."
Before the auto-door closed, I could hear the fake foreigner say that.
So Akihisa came up with the plan? I don't know what's going on, but I won't let that guy get what he wants!
Shouko and I continue to walk down this dark corridor. Kk, kk...the the footsteps on the linoleum's a lot clearer than what I expected.
"As expected of a haunted house that's modified from an abandoned hospital, this sure is rare."
"...It's a bit scary."
"It's really rare for you to be afraid even though there's nothing."
"...Maybe."
We continue to move on in the directions mapped out by the sign 'move forward'.
There's nothing on the 1st level, and so we head upstairs. Before we can take a few steps, there finally seems to be something going on.
"—fer—ji—"
With a heart chilling wind, a distorted voice can be heard.
Hm? Is this a cry of agony?
"...Is this voice...Yuuji?"
"Hm? Is that so?"
The voice does sound similar to mine. Most likely, Hideyoshi's imitating my voice.
To hear my own voice without me even speaking, it does feel scary. I thought that Akihisa's plan will be rather simple or something—

"I prefer Himeji to Shouko, and her breasts are bigger."

"...Yuuji, are you ready?"
"Scary! Shouko's face actually became like a Hannya! That's super thrilling!"
How did that damned Akihisa think of such a terrifying method! Is he planning of not letting me escape here alive!?
Just as I'm getting worried, I suddenly hear some sort of mechanism being activated.
Great! Well done! I can protect my own life now.
"Ah, Shouko! Something seemed to have appeared!"
Turning to where the sound came from, something appeared at the originally empty place . That is—
"...How kind of them."
—A mace?
That damned Akihisa! He actually prepared everything! Though they messed up on how it's supposed to be scary, this is one super duper scary haunted house!
"...Yuuji, where are you going to escape to?"
Wielding the mace, my childhood friend came pursuing after me in this new method of playing, and I got chased for an entire hour.
However, does Akihisa really think that this will bring Shouko and me together?
☆

I continued to escape as I tried to explain to Shouko that Hideyoshi was mimicking my voice, and finally managed to calm her down and bring her out from the house.
"It's been tough on you! How about that? Do you two feel like getting married?"
"Only you and that idiot Akihisa will think this will make us get married..."
Forget about creating a gap between us, I'm feeling that the divide between me and Shouko just got wider.
"That's strange? I though those couples who pass through adversity together won't have such a problem with each other..."

"Well, ya, it would have been possible if the crisis didn't come from the ones who should be together..."
This fake foreigner's brain shouldn't be any different from Akihisa, right?
But now at least I can relax a bit. If it's a plan Akihisa came up with, there wouldn't be any delinquents coming up to threaten or extort me. If so, I don't have to keep thinking of ways to escape...how troublesome. If possible, I really want to go home now.
"...About time to eat lunch."
Shouko stares above the fountain as she mutters. The large clock that's in that direction indicates that it's 1pm. That's right, it's about time to eat.
"...That, my bag--"
"Yes, we prepared a deluxe meal for both guests. Please follow me."
The fake foreigner walks away after saying this.
They actually prepared lunch for us. That entrance ticket sure isn't for show.
"What's wrong, Shouko?"
"...Nothing."
"?"
What's with that lonely look on her face out of a sudden?
"...Yuuji, if we don't hurry up, we won't be able to catch up with him." "Hm, you're right."
Maybe believing that we will follow him, the fake foreigner has already walked quite some distance. Well, since he said that they prepared a meal for us, we'll let him treat us.
I hurriedly walk away, and after a walk, what appears in front of me is a trendy-looking restaurant.
"Please enjoy the meal that we'll be preparing for you here."

Immediately, the fake foreigner ushered us into a wide hall that seems like a party hall.
There's a round table right in the middle, and there is also a stage and some small tables. The atmosphere now doesn't look like a restaurant, but like a—
"...A quiz show?"
That's right, though there's a lot of luxurious food on the table, this is basically a quiz show that we always see on TV.
"Mr Sakamoto Yuuji and Miss Shouko, welcome."
Am attendant walks over as he leads us to our seats—what the heck, I know this guy too!
"Why are you dressed up as an attendant, Hideyoshi?"
"Hideyoshi? What are you talking about?"
My classmate shows a poker face. Has this guy gotten into character? Seems like it's hard to rip this guy's mask off.
I'll just use the useful tool that I used on Akihisa!
"Since you deny it, I'll just confirm it."
I pull out my phone and look for a name in the phonebook called 'Kinoshita Hideyoshi'. But before I could press the call button, the attendant beside me immediately took action.
"Ah, my phone slip!"
Hideyoshi (?) pulls out his phone and threw it hard at the fountain. Ploop, the sound of something landing in the water can be heard.
"Is, is there a need to go to such an extent? Your phone will definitely spoil!"
"I don't understand what you're saying."
Hideyoshi continues to give me the poker face.
Even if he doesn't really use it, to throw the handphone away without a second thought....the enemy's thoroughly into character.
"Then, if you allow me, please."
"Ah, ooh..."
We're led by the attendant to the center of the hall.
"As the two guests are underaged, we've prepared these drinks for you."
After we sat down, the attendant pours some non-alcoholic champagne into our glasses, not even forgetting to introduce us the brand of this champagne. He's really into it, as expected of someone from the drama society.
"Please enjoy your appetiser."
After putting down the glasses the dishes are served onto this table. Seeing the luxurious food that's only the appetiser, I can only grimace that I'm not used to holding a fork and a knife.
Speaking of which, Shouko should be rather used to this sort of cuisine, right?

Until we finished eating, there doesn't seem to be any traps around. Just as I thought that I can heave a sigh of relief—
"Ladies and gentlemen, thank you for attending this trial trip of Kisaragi Highlands's before it officially opens!"
A loud voice booms throughout the entire hall. "Actually, in this hall today, there will be a wedding experience event to prepare a high school couple!"
Some of the drink I just gulped down accidentally sputtered out of the nose.
"We at Kisaragi Corporation wish to encourage this couple and created such a scheme! The scheme is called the 'Kisaragi Highlands wedding experience' quiz show~"
A heavy sound of the entrance being locked can be heard from the entrance. To actually cut off my escape route, damn you Akihisa! Seems like you have grasped how I would think!
"The content of this scheme is simple. You just need to answer all the 5 provided questions to enjoy the wedding of the highest class! Of course, if you wish, there's no problems with directly registering as a couple."
That's a huge problem, you big idiot.
"Then Mr Sakamoto Yuuji and Miss Shouko, please stand on the stage in front!"
As the host earnestly pointed in our direction, everyone in the restaurant turned around to look at us.
"...A wedding experience...I'll do my best!"
"Calm down Shouko. A wedding has to be agreed by both sides—OWWWWW!!! MY EARS ARE ABOUT TO BE RIPPED OFF! I'LL GO! I'LL GO! JUST LET ME GO!"
I continue to keep telling myself that this is just an experience, but I still feel unhappy as I step on on the stage.
With the workers leading us, Shouko and I are assigned to our seats.
"Okay, the 'Kisaragi Highlands wedding experience' quiz show begins now!"
There's a huge button between Shouko and me, and it seems like a standard answering system where we have to press the button before answering.
Well...if I get the answer correct, I'll get a prize, but if I answer a few questions wrongly, this event will be a bust, right? Seems like I'll just have to keep answering wrongly.
"And the first question is up!"
I reach my hand out for the button as I wait for the question.
Come on, show me what questions you have...
"When is Mr Sakamoto Yuuji and Miss Shouko's wedding anniversary?"
That's too strange! I don't even understand what this question is about!?
—Ding dong!
Damn it! Before I even noticed, Shouko actually pressed the button. But even if it's Shouko, she can't possibly answer a question that has a non-existent answer—
"Alright, let's have Miss Shouko with the answer!"
"...Everyday's our wedding anniversary."
"DON'T SAY IT SHOUKO! I'LL BANG MY HEAD AGAINST THE WALL OUT OF EMBARRASSMENT!!"
"Brillant! That's the correct answer!"
That's the correct answer!?
I glare at the host; he actually glanced at me from an angle where the audience can't see him. What the heck! So this was pre-planned! Do you really want us to have a wedding experience?
Find then, if so—I'll show you my passion!
"Second question! Where will the wedding be held?"
—Ding dong!
I quickly pressed the button down as I lean near the mic to say the correct answer. These questions aren't questions now, they're just interrogations. But it doesn't matter. If I give a wrong answer, that's nothing!
"Okay, will Mr Sakamoto Yuuji please answer!"
"Miso-stewed Mackerel!"
"Correct answer!"
"What?"
How can such a thing happen! You asked for the location, so how can my miso-stewed mackerel answer be correct!?
"The wedding of these two will be held at the phoenix room our Kisaragi hotel, also known as the 'Miso-stewed Mackerel'.
"Hold on! You just came up with this nickname, right!? There has to be a limit to this!"
"Third question! Where did the couple first meet?"
No way, they aren't listening to me...but if so, I can guess what they're thinking. I have to say the wrong answer this time. Got to be faster than Shouko and say the wrong answer—
"...Don't you think of doing that."
—Pwoosh.
"OOOOWWWWW!!! MY EYESS! MMMYYY EEEEEYYYYEEEEESSSS!!!"
—Ding dong.
"Okay, will Miss Shouko answer?"
"...Elementary school."
"Correct answer! These two first met each other in elementary school, and after a long time of dating, they're finally about to be married today! Just an intimate pair of childhood friends!"
Didn't he just see my eyes getting poked hard? Since when has our relationship reached such an extent that it can be considered intimate!?
It's too late to answer the question after hearing it, so I have to get the right to answer before Shouko does. If so—
"Next, the fourth question!"
—Ding dong!
Before the host could say the answer, I already pressed the button. Now I can give an answer before being stopped! Though I don't know the question, I'll be 100% correct if I just answer 'I don't know'.
"I don't—"
"Correct answer! Up next, the last question!" WOAH! He just ignored my answer! Did he give this reply because I ignored the question? I can't even answer a question wrongly now. Just as I'm thinking about giving up—
"Oi~ is there something wrong? We're also about to get married, why is it that only that high school couple can have such special treatment~"
The savior with the irritating tone has arrived.
Just as everyone start to look around for that guy who spoke, he walked up to the stage without anyone asking him to.

"Dear guests, we're having an event not. Sorry, but can you—"
"AHH? STOP YAPPING OVER THERE! WE'RE GUESTS, YOU UNDERSTAND THE SITUATION!?"

The coffee-haired guy with piercings threatened the workers.
I actually wanted to mention that those two look familiar. So they're actually the delinquent couple that continued to pester the fake foreigner when we first entered.

"We have a wedding experience as well~"
"Bu, but, this—"
"DIDN'T WE TELL YOU TO STOP YAPPING ABOUT? WE WANT TO ENTER THE QUIZ SHOW. ARE YOU DUMB OR DID YOU NOT HEAR US!?"
"YEAH! HOW ABOUT THAT! WE'LL COME UP WITH THE QUESTION. IF THEY ANSWER IT CORRECTLY, THEY WIN. IF WE ANSWER IT WRONGLY, WE WIN!"
"How, how can it be—"

Ignoring the panicking workers, the delinquent couple stride onto the stage and grab a mic.
Once in a million chance! That host will definitely ignore my answer, but if it's these duo, I may have a chance to escape.
Next, I just need to prevent Shouko from answer...
"...Yu, Yuuji?"
I held Shouko's hand as I put my hand on the contestant's table. If so, she can't poke her fingers into my eye. Now all I need to do is just to give them a wrong answer, and everything will be OK!
"Okay, here's the question."
The hoodlum deliberately rolls his tongue and says in a tone that's hard to hear out.
Come on, what's the question? Relax, no matter how simple the question is, I can answer it wrongly—

"WHAT'S THE CAPITAL OF EUROPE?"

"..."
I can't even answer this.
"Oi, hurry up and answer! Don't you know?"
I really don't know what's the answer. In my memory, Europe was never designated as a 'country'. It's impossible to answer this question at all.
"...Mr Sakamoto Yuuji and Miss Shouko, congratulations on winning the 'Kisaragi Highlands' wedding experience' prize!"
"OI, hold up! These two haven't answered at all! We should be the winners, right?"
"How is that possible? Is that host an idiot!?"
As the idiotic couple continue to create a ruckus, the stage ended.
To think that there's a bigger idiot than Akihisa in this world...this world sure is huge.
☆

"Congratulations to you two to be able to win this free wedding experience. You two are lucky."
"...I'm so happy."
Once we walked out the restaurant, the fake foreigner immediately carries Shouko's bag as he walks towards us. Really, what lucky? You guys planned this right from the beginning.
"Oh yeah, Shouko, what's in your bag? Why is it so big?"
"...No, it's nothing..."
Shouko's reply seems to be a little troubled. What's going on?
However, this person here is someone who'll bring my important stamp around, so it's not strange to see her bring such a large bag.
"Miss Shouko, for the wedding experience, can you please follow this worker and get ready?"
A 30+ woman walks up to us from behind the fake foreigner and bows to us. She looks just like a professional who specializes in dressing up wedding gowns on others.
"Hello, we've met for the first time. I'll be in charge of putting the wedding gown on this Miss here. For this event to be an unforgettable success, please allow me to help you dress up as the prettiest bride."
The female worker smiles earnestly at Shouko.
Oi oi oi, aren't you playing it too seriously? You even got a specialist to come all the way here?
If so, Kisaragi Highlands wasn't planning to promote their facilities right from the start, but the wedding experience we're going to have? Seems like my time is wasted on this mock wedding.
"If so, don't I have to wait for quite some time?"
"Please rest assured, as for Mr Sakamoto Yuuji, we've already heard from Mr Yoshii—no, that's not right, we've already thought of the best way to deal with you."
"There's no need to hide it now. Did Akihisa give you any instructions?"
I suddenly have a bad feeling about this.
"Yes, he said to use this on Mr Sakamoto Yuuji first."
While saying this, he pulls out something that looks like a taser (200,000 volts).
"Because Mr Sakamoto Yuuji may think of escaping, Mr Yoshii's instruction is to use this taser to knock you out and then change you into the bridegroom's outfit."
"A, AAAAAKKKKKKIIIIHHHHIIIIIIISSSSSSSSAAAAAAAAAAAAAAAA!!!!!!!"
"Please endure this for a while."
Before I can hear the terrifying bzzt sound from behind, I got knocked out just like that.
☆

"And now, we'll have the main event of today, the wedding experience! Will all guests please applaud the bridegroom!"

The loud applause seems like it covers the entire theme park. I thought that these guests were air to come here, but even the ordinary guests can't help but applaud on hearing this.
"Mr Sakamoto Yuuji, please stand on the stage."
The fake foreigner who's standing on the stage whispered to me.
How about I try to beat this guy down and immediately run away?
"If you still want to resist, I'll put sea urchins and brown brushes together as a sashimi plate and send it over to you house." Uu! If that's sent to my house, my mum will think that they're all sea urchins and eat the brown brushes together...
"Really can't stand you...oh well, at least that's just an experience. I'll just play along..."
In order to let the fake foreigner relax, I deliberately said these words of giving up struggling in a voice loud enough for him to hear.
These guys must be planning to go all the way from exchanging rings to the oath and the kiss. They probably want to use this entire sequence to spread it out to the public and force Shouko and me to get married. But if society's to see this and find me with another girl, I'll get talked about. Frustrating, but a skillful way of forcing us to get married. To come up with such a plan—though they haven't considered the problem of misusing the image rights, the enemy's a famous enterprise, so they will have a way.
If so, I'll just have to escape before the oath is said, and best if everyone can see it. Maybe I can feign illness...they can only end this if they can't handle me. As long as I get away from here, it doesn't matter what happens later.
"Mr Sakamoto Yuuji, please head up the stage."
"Okay okay."
Dong dong dong, I climb up the slightly steep steps. When I got onto the stage, the scene in front of me makes me somewhat dizzy.
"Oi, that can't be it...what's with this setup!?"
What appeared in front of me are numerous lights and a full audience like a concert. Everything, the dry ice equipment, the balls and smoke are all set up. And there're all sorts of lighting experts around.

"And now, a brief introduction of the bridegroom's life—"
Oh? Introducing my life? That's not too different from a real wedding. Seems like even with the final goal in mind, they got every minor detail in place as well. The quiz show just now was the same as well. Seems like they got lots of details from Akihisa—

"—we'll ignore that."
That's too shoddy!

"Haiz! No need to introduce him in the first place."
"We have no interest in that in the first place~"
"We just need to know that there are people who aren't worthy of being at our wedding place."
"That's right~"

The jerks sitting in front create such a ruckus.
The voices...so it's that delinquent couple in the quiz show just now.
They're in the front row, yet they continue to yap away like nobody's business. These two's etiquette are as lousy as their looks.

"...In order to avoid creating disturbance to the other guests, will those below the stage, please avoid creating a huge commotion."
"Were they just talking about us?"
"No way, we're guests!"
"You're right~"
"Humph, even if they're talking about us, we have no need to be mindful about that. The main thing is that we're not satisfied. Isn't that right, isn't that more important?"
"That's right, that's right! Well said, Ryouta!"

The self-centered couple continues to increase their volume without any restraint.
The organizers should be really wishing that they can get rid of these meddlesome people, but these jerks that are making such a ruckus are tougher for them to handle. Since this is a promotional event, there'll be no point to this is there's negative feedback, so they can only leave those two alone.

"And now, the bride will be here."

The BGM got deliberately louder as it reaches my ears, and all the lights are switched off. A light smoke rises from the feet, and it can't be denied that there's a wedding atmosphere here.
—Haha, it'll be depressing if Shouko's wearing a wedding gown that doesn't suit her!
I'll run away later. Since it's like this now, it'll be interesting to see Shouko in a wedding gown.
After making this decision, I decide to stay here. Before my eyes got used to the darkness, the spotlight lights up.
"Please welcome our female lead in this event, Miss Kirishima Shouko!"
With the audio broadcast, several lights are lit up as they all gather at a part of the stage. The darkness got instantly replaced by the light, forcing people to close their eyes.
When I try to open my eyes, I see the figure—and is rendered speechless.
Seems like I've just met the childhood friend that I've known since young in quite a while—seeing her like this, I start to feel a little delusional.
She looks just like a real bride, standing elegantly over there. Who...is she?

"...So pretty."

A voice can be heard from the silent crowd that's utterly awestruck. I don't know who said that, but those words reached my ears without any deterrence.
Maybe it's because it was delicately made that the pure white gown doesn't have a single crumple. The length of the skirt seems to nearly reach the floor, as it didn't get stained while she was walking.
"...Yuuji..."
The face hidden under the wedding gown, my childhood friend, dressed in a silk dress seems to look uncomfortable as she looks up. The bouquet of flowers in her hands at chest level sways about slightly.
"Are you, Shouko...?"
"...Nn."
My mind is utterly blank, and the question just came out even though I didn't need to answer that. Maybe the change was so drastic that I had to confirm it.
Seeing me waver, Shouko asks in a somewhat shyly manner,
"...How is it...do, I look like a bride...?"
Maybe it's because this girl looks like a stranger, or maybe it's the atmosphere, or maybe it's some other reason,; I just answered without thinking,
"—Um, no problems. At least no matter what, you don't look like a bridegroom."
The fleeting thought of 'it'll be depressing if Shouko's wearing a wedding gown that doesn't suit her' got thrown far away. 'You don't look like a bridegroom'—I guess it's a good job that I managed to at least say something.
"...Yuuji..."
Shouko called my name softly as she hugs the bouquet of flowers into her arms.
And then, she seems to be stunned as she remains rooted to the spot.
"Oi, oi, Shouko...?"
What's wrong? She seems weird, was my answer weird?
Should I get over to her? I hesitate for a while. Just when I'm doing so, Shouko again says,
"...I'm so happy..."
The girl in front of me lowers her head and buries her face into the flowers.
She can no longer say anything more as she can only tremble silently.

"What, what's going on? The bride seems to be crying?"

As if remembering his own job, the audio broadcast can be heard again.
Is she about to cry? I only noticed it when the host said it. Lowering her head, her shoulders trembling—Shouko's crying silently in front of me.
"Oi, Shouko, what's..."
The veil and the bouquet of flowers prevents me from seeing her face clearly. Why is she crying?
The originally silent audience starts to chatter loudly for some reason, and yet Shouko's able to say to me in an audible voice,
"...Because...this has always been my dream..."
A hoarse voice reaches my ears.

"A dream, huh?"

"...Ever since I was little, I always dreamed of being Yuuji's bride...always had this dream ...of having a wedding that belongs only to Yuuji and me...but, I can't possibly do it on my own, this dream of mine..."
The normally silent Shouko tries her best to say out some words, creating a weird feeling within me.
Because 'that incident' when we were young caused her to harbor affections only for me. The affections were merely supposed to be out of guilt and responsibility—but why must this person here remain so steadfast in her beliefs.
"...So...I'm really happy...to be able to do this, not with anybody else, but with Yuuji..."
Saying all the way till her, Shouko can no longer talk further as she weeps silently.
At this moment, the sound of someone blowing the nose can be heard. Is the audience touched to tears? Some people's tear glands are really weak.

"So she's actually crying out of happiness! Our bride here is still as focused as ever. How will the groom react to the bride's confession?"
How should I respond? Do I need to say it? No matter the time or place, what I should do is to correct this person's incorrect thinking.
Thinking about this—unbelievably, I can't even utter a single word.

"Shouko, I—"

"Ah~ ah~ so boring~"

Just as I was about to finally say something, a loud voice can be heard from the audience. I immediately shut my mouth. Even though I don't know what's going on, maybe I got all dizzy or something. Maybe I can say that it was god's grace to prevent me from saying something.
"Such a boring event~ forget about those boring things, can't we have a performance or something~?"
"That's right~ we have no interest in listening to your love story."

Seems like the people who saved me were those two idiots. Their voices can be heard amongst the now silent crowd.
"Speaking of which, what 'being a bride was what I always wanted? Or what? Are you acting pure? Is this what the workers here to you to say? How idiotic is that? It's so disgusting it makes me sick!"
"Are you playing a pure love game? We don't want to waster our precious time on you people~ does that woman have a problem? I find it comical no matter how I hear it~"
"I know! That was a comedy just now right? That's right, where will there be anyone in this world with such a disgusting dream!?"
"Eh~ was that a comedy? It's really comical~"

Those two continue to mock Shouko one after another, but—

"WHAT DID YOU SAY!? SAY THAT AGAIN IF YOU DARE!!"
"AH, AKIHISA-KUN, PLEASE CALM DOWN! YOU'LL RUIN THIS EVENT IF YOU GET SO WORKED UP!"
The angry roar could be heard through the broadcast, and the sounds of violence can be heard from behind the stage. Seems like a certain idiot can't control his anger after hearing those words.
Where is he throwing his tantrum from? I turn my eyes from the couple below the stage to look behind.
But even though I took only a short glance—

"Wh-where's the bride? Where did the bride go?"

Shouko disappeared from the stage. What's left at the place where she was standing are a small bouquet of flowers and a wedding veil.
"..Sigh, really can't stand her."
I picked up the veil that she threw onto the floor.
The veil that was supposedly as light as a feather now seems a lot heavier after being stained by Shouko's tears.

"Kirishima-san? Kirishima Shouko-san? Dear guests, please help us find the bride!"

The workers are now as anxious as ants on hot water.
Hm, seems like they have to end this wedding experience event. Now that the event they put so much effort in can only end as failure, those thick-skinned people at Kisaragi Highlands are definitely going pale.
"Mr, Mr Sakamoto! Please help us find the bride!"
One of the workers in the hall pants as he runs towards me, probably trying to ask me where that person ran off to.
"Sorry, I'll pass. It's troublesome, and I really want to go to the toilet."
"Eh? Wa-wait a minute Mr Sakamoto!"
I turn around and leave while still hearing the cries of that worker, and he can only give up reluctantly after seeing me being unwilling to help. Really, if you have the time to ask me, how about you just search for yourself? That'll be faster right?
I get into the prepared crowd as I leave the hall. 5 minutes later, I found my target. Good thing they haven't gone too far off.
"Oh my, that was sooo funny~"
"Yeah, I always...dreamed of marrying you—how was it? Does it look like it? Is it cute?"
"Ahh, that was so like it. But—of course it's disgusting! Who will find it cute!?"
"Ya~"
Finally found them. Let's just settle this once and for all.
I slowly walk towards those two and said as I arrive behind them.
"Oi, you two."
"Ahhh, what is it!?"
The coffee-colored faces of the two jerks turn to face me.
Those two are the ones who helped me and prevented me from falling into a human life grave. I really have to thank them.
"Ryouta, isn't this guy the one who acted as the groom?"
"Seems like it. WHAT DO YOU FAUX-GROOM WANT US FOR, SAY IT!"
The guy walked forward as he threatens me.
"Oh well, nothing much actually—"
I take off my western coat that I borrowed and loosen my tie. Unbelievable, my body's already so hot even without me doing any warm-ups.
"—Let's just have a few words."
☆

"Yo, you kept me waiting for quite a while."
"...Yuuji."
Standing in front of a hotel in Kisaragi Highlands, Shouko finally exits the passageway as she keeps her head down.
"Okay, time to go back."
I help Shouko carry the large bag that she took back from the fake foreigner as we walk slowly towards the train station.
"..."
Shouko doesn't say anything at all as she silently follows me.
We silently walk down the path to the train station in this sunset.
I don't know how long we walked, but while we're walking that's pretty empty, Shouko finally asks softly,
"...Yuuji."
"...What is it?"
"...Is my dream..weird?"
She must be bothered by the idiotic couple's mockery.
Shouko stopped, and though her head's lowered to prevent me from seeing her face, I can tell what her expression is.
"This, well, maybe it isn't ordinary."
I chose my words carefully before making this reply.
"..."
Shouko again remains silent.
The reason why I answered like this is because in these not-so-short 7 years; she always harbored this one unshakeable dream as she stuck onto me. But now that her dream got mocked and denied in front of so many people, I can't even imagine how she feels.
But even so, I don't intend to lie just to comfort her.
"I'll use this chance to state this clearly, your feelings towards me are just derived from that past guilt you had."
The event that happened 7 years ago was the key reason why Shouko thinks that she fell for me. Up till now, I'm still regretful of that incident. If I had handled it a little better, maybe it wouldn't have ended up like this.
Because of that, that person wasted her time on this useless bum here.
Thus, I have a need to tell her directly 'you're mistaken'—in order to prevent her from wasting time on such a thing.
"...Yuuji..."
Shouko gasped. Maybe this is a blow to her when I said this.
"But—"
But I have no need to hurt her. What's wrong is how this person here understands her feelings, but being able to harbor such feelings for just one person for this long is something she should be proud of.
So I have to tell her this. She isn't completely wrong, she just made a mistake in her target. However, her dream isn't wrong, and it's not strange at all.
"—But then, I won't laugh at your dream. Your dream is amazing, it won't lose to anyone, so you have to be confident of yourself."
I put the thing that I picked up at the hall on Shouko, who has her head down.
"However, you cannot mistake who you're going for."
To have a wedding experience, it shouldn't be bad to have a memory like this, right?
"...This is...the headdress from...just now..."
Shouko reaches her hands out and receives the pure white headdress of the wedding gown as she lifts head head and stares at me in shock.
Seeing her so shocked, I suddenly feel somewhat awkward as I turn my head away.
Ah, now that I mentioned it, I have something else I have to tell her no matter what.
"Also, Shouko—"
I stare at the fading sunset and say softly—
"—The bento was delicious."
I put the already lighter bag onto Shouko's hands.
"...Ah...my bento. Yuuji, you...notice...?"
"Okay, let's hurry up and head back. We'll be misunderstood if we stay out for far too long."
"...Yuuji."
"Especially my mom, no matter how I explain it—"
"Yuuji!"
It's been a while since I heard her speak so loudly, and I inadvertently stopped.
"What is it?"
I replied her call with my usual calm attitude.
Just as I tilt my head to face her, in the orange sunset, I see someone raising the headdress—

"I didn't make a mistake after all!"

I see — my childhood friend was smiling brightly at me.
☆

"Yo, Akihisa."
"Hm? Morning Yuuji, what's up?"
"You did quite a number to me at Kisaragi Highlands, huh?"
"Hahaha, what are you talking about? I was playing computer games at home the entire day, how can I possibly go to Kisaragi Highlands?"
"...Really? Well, you can act dumb all you want."
"Wh, what are you saying? That's so weird~"
"Oh yeah, I got a present for you."
"Eh? What is it?"
"This is a two-persons ticket to a highly-rated love story movie that's being aired right now. IF YOU HAVE 'SOMEONE YOU LIKE', JUST BRING HER OUT."
I deliberately increase my volume for everyone in the classroom to hear.
"A two-persons ticket? Uu—even if you give me this, I don't really know who to ask."
"So be it then."
I stuff the ticket into Akihisa's hand and turns to walk away.

"Ah, Aki! I want to watch a movie this weekend~"
"Ah, Akihisa-kun! I just so happened to have a movie that I want to watch!"
"Eh? What's going on? Why do you two have such killing intent? I just want to pawn this ticket away for my daily funds—OWWWWW! THEY'RE ABOUT TO BE PULLED OUT! SEVERAL IMPORTANT PARTS OF MY BODY ARE GOING TO BE PULLED OUT BY YOU!!!"

The expected cries of anguish and pain can be heard from behind.
Really...who asked you to pull such a twisted plan in the first place, you big idiot.