Baka to Tesuto to Syokanju:Volume3.5 Me and Thugs and a Love Letter
Jump to navigation
Jump to search
Me and Thugs and a Love Letter
[
edit
]
Hello Yoshii Akihisa-kun:

I'm sorry to write this letter to you so suddenly, but I have something that I really want to tell Yoshii-kun, so this is why I started to write this letter.

Does Yoshii-kun still remember me? We were in the same class during third grade, you know. From that moment, I always felt that Yoshii-kun's a really interesting person, and is always the one that cheers others up. No matter what happens, you'll always stand up to encourage everyone. When I was class rep once, you helped me out a lot. I really think that Yoshii-kun's really amazing. Though I didn't join you and play around, my heart always felt warm whenever I see Yoshii-kun, whether it's the classroom or the field.

When we were in Middle school, although we didn't manage to be in the same class, I continued to hear rumors of you. When we occasionally met each other, my heart would beat really fast. Isn't that strange? Why is it so? I often asked myself.
Maybe it's a coincidence, but when I heard that you entered the same High school as me, I was really happy.
During the summoning exam, you stepped up to protect me immediately. At that moment, I couldn't fool myself anymore—I think, maybe I love you...until now, I finally realized my feelings for you.

I love you.
Right now, it took me all of my courage just to express my feelings to you. Will it be good to let Yoshii-kun understand my feelings and slowly bond ourselves together?
This letter's basically my own feelings for you, so I'm really sorry. If you have someone you're dating or like, then I'm really sorry about it.
But then. But then, I really love you. I love you the most.
☆

"Ooo~ how did I end up coming to school this early?"
Such a clear sky today, the air sure is clean, and the sunlight drenches my body as I walk on."
It's less chaotic and squeezy when I go to school early today, as if I'm on a quiet empty street. How refreshing.
"The ancient people said that the early bird catches the worm. Don't know what I'll get today~"
After school yesterday, I thought of taking a nap, only to unexpectedly sleep till daylight, so I ended up waking up 2 hours earlier than usual.
Once I woke up, I came to school without thinking. However, the weather today's so good, I knew I should have done my laundry first.
"Let's see, what should I do first — hm?"
While pondering and walking, I suddenly find a familiar figure in front of the school gate. Short-hair cut, light brown skin and sturdy muscles; isn't that Iron—let me try that again, isn't that Nishimura-sensei? Either way, he's still my homeroom teacher. Better say hello to him.
"Morning, sensei!"
I energetically greeted him from behind. Ironman turns back with a light-hearted smile that I never saw before.
"Oh, morning. Participating in morning club activities? How—"
He stopped.
"Sensei?"
"—Sorry, I was mistaken."
"You mistook me for someone else? Aiya, no need to specially apologize to me for that."
"What are your intentions for coming to school so early, Yoshii?"
The moment he said this, the light-hearted smile on his face is replaced with a wary expression.
"Eh..so sensei's mistake is the attitude to me?"
Did I really do so many bad things...?
"As a teacher, it's obvious that I have to be wary of you, but it's just nice that you're here. With that 'punishment inspector' ability of yours, I'll have less things to do."
"Woah, speaking of that 'punishment inspector', you're going to make me work?"
"That's right. Go keep those old goal posts."
"Really, I shouldn't have come so early..."
I can't help but sigh.
'Punishment inspector' — this is the method of punishment that the 'test summoning system' of our Fumitzuki Gakuen uses. The main idea is to follow the teacher's orders and do all sorts of oddjobs.
This 'test summoning system' is a coincidence formed by science and the supernatural. Since this decides the strength of the summoning system, Fumitzuki Gakuen is a test school that uses this as an incentive to encourage students to study hard. The school's protocol is to use the summoned beasts to fight, and this will definitely pump the students up better than ordinary tests.
"You should be regretful of the attitude that turned you into a 'punishment inspector' and not about coming to school early today, right?"
Ironman looks like he has given up as he sighed deeply.
"Uu...but I haven't done anything so bad that the Heavens won't condone it..."
"...You actually have the cheek to say such words? Enough talk, hurry up and get onto the field."
"Okay, okay."
Being led by Ironman, I unhappily entered the field. Those who're running on the track, are they track members doing morning exercise? They sure look energetic.
"It's your turn, Yoshii."
"Got it—summon."
Under Ironman's supervision, I summoned my summoned beasts.
The many magical arrays appear beside me, and a super-deformed version of me appears. The three-head sized body is cute, but one can't underestimate it's vicious strength. Though the strength of a summoned beast is decided by the caster's points. My points are still enough to be stronger than men by many times. However, it's just used to do oddjobs.
"Good, drag that goalpost away."
"Okay~"
The summoned beast obeys my instructions as it easily carries the goalposts that's numerous times taller than it.
"Bring it to the dump outside the city."
"HOW MANY KILOMETERS DO YOU THINK THAT IS, SENSEI!?"
At least give me a lorry to use!
"Just joking. Take it over and place it near the school gate. Be careful not to block the entrance."
"What now, you scared me~"
"Thinking about the damages you caused, this level of punishment is nothing."
"Uuu..."
Regarding that, I'm a bit sorry about that, but at least understand my circumstances...
"The net will have to be separate."
"Sigh...looks like there won't be anything good today..."
Early bird catches the worm—who said so?
☆

I followed Ironman's instructions and took down the net. I then moved the goalposts over to the school gate. Without knowing it, I almost couldn't make it to self-study period. There's no time to move the net over to the gym storage room, so let's just go to class.
Just as I was thinking this as I open my shoe locker, there seems to be something similar to a love letter.
"WHA, WHAT'S GOING OOONNNN!!!"
This unexpected development caused me to shout out. Ca-ca-ca-calm down, Yoshii Akihisa! You'll die if you think too highly of yourself! Anyway, let's just check through the contents first--
"Yo, Akihisa, what's up?"
"WAAHH!!"
Someone just called my name. I frantically stuffed the letter into my pocket. That was scary!
"Ah, ahh, it's Yuuji. Morning."
"Morning."
Raising his hand to say hello to me is my classmate, Sakamoto Yuuji. This guy doesn't look like he has much of a brain, but he's still our class F's representative.
"Oh, oh my~ quite the nice morning! Sure feels like something good will happen this morning!"
"...Why are you so excited?"
"I, I I'm not excited or anything!"
"No way, right? I just saw something like a letter in your hand or something..."
Ugh! He saw it? If anyone sees me with this letter, those guys in our class will wallop me out of jealously!
"Just, just a pampley, that's all! Forget about that, we'll be late for self-study period if we don't hurry up."
In order to avoid this, I immediately lift the soccer net up and rush forward. Truthfully though, we're really almost late.
"Oh, that late already? We're in school now, so it's a waste if you're late."
Yuuji's running behind me. Good, seems like I managed to slip out of this.
And the next problem is—where should I read this letter? There'll be trouble if I read it in a crowded place...what should I do?
☆

"Kudou."
"Here."
"Kubo."
"Here."
We managed to dash into class just as the bell rang. Before we could even rest a bit, Ironman walks into the class and starts to take attendance. One can't really tell from his appearance, but he's really a punctual teacher.
"Kondo."
"Here."
"Saito."
"Here."
The calm and lazy attendance taking is of common procedure, and everyone in class replies Ironman in a sleepy tone.
This is a silent moment in class. In this spring morning, today's the same and the past, as we continue to welcome the peaceful daily—
"Sakamoto."
"...Akihisa seemed to have gotten a love letter."
"KILL HIM!!!" —But Yuuji's words destroyed all the peace.
"Yu, Yuuji, what are you talking about!?"
I definitely lowered my volume, but it doesn't seem to get past everyone's ears. I really feel that there's something wrong with the students in this class.
"WHAT'S GOING ON! HOW DID YOSHII GET THAT LETTER!?"
"SINCE HE GOT IT, WE SHOULD BE ABLE TO! HURRY UP AND FIND IF THERE'RE ANY LOVE LETTERS NEAR OUR SEATS!!"
"NO! I CAN ONLY FIND A ROTTEN BREAD AND A HALF-EATEN BREAD!?"
"LOOK THOROUGHLY!"
"...FOUND IT! IT'S A SEALED BREAD!'
"WHAT ARE YOU LOOKING FOR!!?"
The angry roars start to echo throughout the class. As I expected, these guys have gone crazy with jealously.
"YOU PEOPLE BETTER SHUT UP!'
—Silence.
Ironman's violent roar caused the entire class to turn silent. Ho, good, good.
"Tezuka."
"Must kill Yoshii!"
"Todo."
"Must kill Yoshii!"
"Tozawa."
"Must kill Yoshii!"
"EVERYONE CALM DOWN! WHY DID IT BECOME 'MUST KILL YOSHII'!?"
"KEEP QUIET, YOSHII!!"
"SENSEI, YOU SHOULDN'T BE SCOLDING ME, RIGHT? IF THIS KEEPS UP, EVERYONE IN CLASS WILL BEAT ME, KICK ME AND DEAL WITH ME THROUGH ALL SORTS OF VIOLENT MEANS!"
"Nitta."
"Must kill Yoshii!"
"Fuda."
"Must kill Yoshii viciously!"
"Negishi."
"Must kill Yoshii and dice him up!"
They, they aren't listening at all...why are these guys so troublesome.
"Alright, no one's late or absent today, so I hope that everyone can study hard today."
After the attendance was taken, Ironman walks out of the classroom. Doesn't this guy notice the terrifying killer intent in this classroom at all?
"WAIT, SENSEI! DON'T LEAVE! DON'T ABANDON YOUR CUTE STUDENT!"
In order to protect myself, I tried all I could to stop Ironman. It's no longer time to save face.
"You're wrong, Yoshii."
Ironman's places his hand on the door as he replies. I'm mistaken? What's he trying to say?
"You're one extremely ugly guy."
"I NEVER THOUGHT OF HEARING THAT, YOU BIG IDIOT!"
"Everyone got to pay attention to class."
"PLEASE WAIT, SENSEI!!! SENSEI!!!"
My cry was ever empty and agonizing, but Ironman has already walked out of the classroom, not even looking back. Looks like I can only face all the terrifying killing intent that's flowing in the classroom. Before the first period teacher arrives, there'll definitely be a rain of blood.
"Aki~ can you please explain?" Suddenly, a strong force nearly dislocated my joints as the hands grabbed my shoulders.
"Ah, ah haha...Minami, you look really scary, you know?"
"You received a letter? Who wrote it to you? What was it about?"
Though she's smiling, the slightly trembling hands seem to be trembling hard, as the butterfly knot on the ponytail seems like a devil's horn. That expression's really terrifying.
"Ah...that...that..."
Truthfully, as I was in a rush, I kept the letter without reading it, so I don't know what is it about. Speaking of which, I want to ask you what kind of letter it is. Uu~I really want to hide alone somewhere and read the contents!
"Don't talk too much, hurry up and hand me your fingers—no, that letter!"
What! What will happen to my fingers if I don't do so?
"That, Yoshii-kun..."
A voice that's as delightful as a silver bell rings behind me.
"Hm? Yes?"
The one who spoke is the rose among the thorns in our class—Himeji Mizuki-san. Soft fluffy hair, soft looking breasts, a cute looking face; seeing her like this, I guess it'll be another day of guys working hard to chase after her.
"That...if possible, that...I, I want to read that letter as well..."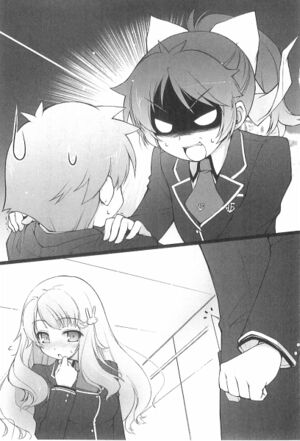 Nudge nudge, shy looking Himeji-san's really cute! But even so, I can't just let her do so.
"Erm...sorry."
Thus, I honestly apologized to her, since I don't want to reveal the contents of the letter.
"But, but..."
I already refused, yet Himeji-san's not giving up. However—
"Even if it's Himeji-san's request, I can't agree to that."
"But, I don't want to do something cruel to Yoshii-kun!"
"HOLD ON A MINUTE! IS HIMEJI-SAN GOING TO JOIN THE RANKS OF THOSE WHO'RE GOING TO BULLY ME!?"
To think that Himeji-san has become one with the low-scoring class F.
"Everyone please calm down."
Just at this moment, a clapping sound can be heard from the frontdesk. The one who spoke up is our class F's representative, my bad friend Sakamoto Yuuji.
"Right now, the problem isn't to read the letter Akihisa got."
The words that Yuuji said sure are convincing. Hmm, that's the way! Even if he's completely corrupted, we're still friend.
"The problem is—WHAT KIND OF WEIRD MEANS ARE WE GOING TO DEAL WITH AKIHISA!!!"
"THE PROPOSAL'S ALL WRONG, YOU DAMNED BASTARD!!!"
I immediately grabbed my bag and dashed out of the classroom at the fastest speed I could muster. Right now, I can only rely on myself!
"DON'T YOU DARE ESCAPE! FORM GROUPS AND HUNT HIM DOWN!!!"
"TAKE HIS LETTER AWAY!!! KILL YOSHII!!"
"SEARCH AND DEATH!!!"
"WE MUST AT LEAST WRECK HIM!!"
I could hear all the roars from the corridor. Again, I felt it first-hand that if it's this kind of things, our class F becomes more united.
☆

"FOUND YOSHII!! HE'S RUNNING TO AN EMPTY CLASSROOM!"
"ROGER THAT! HURRY UP AND CHASE HIM! DON'T LET HIM GET AWAY! I'LL CONTACT EVERYONE!!"
"OK! SQUAD B WILL MOVE FROM THE FRONT, SQUAD C WILL CUT HIM DOWN FROM THE SIDE!"
"ROGER!"
While dashing madly down the corridor, I could hear this conversation.
They actually gathered in groups in such a short time to hunt me down. Why is our class F acting in such an overkill manner when it comes to this useless trivial stuff!?
Alright! Since you want it like this, I'll show no mercy!
"HAND OVER THAT LETTER, YOSHII!!!"
"FOR YOU TO GET HAPPINESS IS LIKE A DREAMER'S TALK!"
5 classmates have already blocked my getaway. They should be the ones from the group ordered to surround me, and there're also some guys behind me.
Unable to do anything, I can only hide in the abandoned classroom, and everyone chasing after me have barricaded the classroom tightly.
Seeing me hide inside, they all stood outside the entrance to prevent me from escaping. But for me who's being chased, this definitely is the best chance.
"Watch this!"
I got ready to attack.
My attack is the soccer net that I took down this morning. I toss it right at their heads.
"Wha, what's going on?"
"Calm down! This is just a net! The ones on the outside, hurry up, get out and get Yoshii."
"Damn it, the net is wet. It's sticking onto the bodies~~"
Being stunned and yet able to make the correct decision immediately, I'll give you that. But unfortunately, you guys are a tad too late!
"You guys just need to rest on the sickbay's beds."
I'm definitely holding onto something dangerous. My trapped classmates widen their eyes in disbelief.
"WHAT! YOSHII, THAT'S..."
"RUN AWAY! EVERYONE GET OUT FROM THE NET!!!"
"Good night, everyone."
I tossed the activated taser at the wet net. The next moment, there's a cackling sound and some burnt smell.
"WWWAAAAAAAAAAAAHHHHHHHHH!!!!!!!"
Hearing my classmates let out blood-curdling screams, I walk out of the classroom.
If I want to read the letter in a quiet place, I'll have to immobilize everyone in class F. if so, I can only fight till the very end!
☆

"Where did that Yoshii run off to? I definitely saw him run down here!"
"Be careful, he should be hiding nearby."
"Squads F and G have been eliminated. There's only one enemy, but don't let down your guard."
In the old books storage room in the old school building, my classmates start to exchange words with each other. Maybe they're acting rather wary since I took down quite a few groups through violent means. I peeped from being the bookshelf, and sees that they're leaning their backs against each other to hide any blind spots.
But if they're gathered together, they'll bind themselves together. Don't they understand this?
I held my breath as I move to the bookshelf near them. I then sneakily pulled one book out and threw it to another corner—BAM!
"What's that sound?"
"Is it Yoshii?
Everyone reacted to the sound as they turn their heads to the same direction. If so, wouldn't there be a blind spot already.
"Rea~dy!"
Next, all I need to do is to push the bookshelf down.
"WHAT!"
"DAMN It—!"
At this moment, since they have already turned their attention to the other side, even if they realize that the bookshelf is collapsing here, they can't react in time, and thus everyone was crushed under the bookshelf.
"HAHA! THOSE WHO TRIES TO OBSTRUCT OTHER'S LOVE PATH WILL END UP LIKE THIS!'
From the corner of my eye, I glanced at my classmates who're trying to crawl out from the bottom of the bookshelf as I walk out of the old books storage room.
"DAMN YOU, YOSHII! YOU TRAITOR!"
"DON'T YOU DARE FORGET THIS! WE'LL DEFINITELY WRECK YOUR HAPPINESS!"
"...Really, how twisted are these guys?"
Once I walked out of the old books storage room, I immediately got a broom to hold the entrance down and block it completely. Seems like I dealt with all my pursuers.
"Good good, now all that's left to do is—WAAAHHH!!!"
A bad presence caused me to instinctively take a few steps backwards. At the place where I was, there're many ball-point pens and sharp knives there're stabbed onto the floor.
"Who's there!"
"...Traitors must atone for their sin with death."
Holding all sorts of stationery in his hands is my classmate Tsuchiya Kouta. This guy has quite the overwhelming pervertedness, yet he tries to hide it. His nickname is Muttsulini, and he's my friend — no wait, he's no longer my friend, but an enemy I have to take down!"
"Get ready, Muttsulini!"
I clench my fist and dash forward. Sorry, but you have to quietly rest here!
"...I'll throw a penknife next."
"Alright, then let's talk it through,"
I can't exert violence on my good friend!
"...Got it."
"Say your request first."
Though I said it, I knew what he will request. He'll say something like 'hand that letter over'. Let me see, what should I use to negotiate with him?
"...My request is—"
Muttsulini coldly states his request
"—to murder you."
"HOLD ON A MINUTE! WHY DID YOU JUST JUMP STRAIGHT TO MY EXECUTION!"
I have never went through such a difficult negotiation.
"...Deal broken."
"Damn it! Looks like I can only do this the hard way!"
I gather all my concentration and aims at the penknife in Muttsulini's hand.
Speaking of which, it's just a love letter. Is there really a need to start slaughtering friends?
"...Don't worry. I won't aim at your eye."
"Muttsulini, I'm not an idiot who'll be relaxed after hearing what you said!"
"...Really?"
Whoosh! The penknife lets out an air-ripping sound as it attacks me. The target is — MY RIGHT EYE!
"YOU, YOU LIED!"
I immediately use my hand to block it, and the penknife drops onto the floor. Eh? It didn't hit me? Was the blade not unsheathed?
"...An opening."
"Uu!"
Muttsulini came rushing in just as I was stunned. Damn it!
"Muttsulini, do you know Himeji-san's bust measurement?"
In order to protect my own life, I frantically mentioned something Muttsulini will be interested in. Please take the bait, you huge silent pervert!
"...This is common knowledge!"
No way, I can't shake his concentration at all! Speaking of which, is this really common knowledge? I don't even know!
"Then, then, once I get a girlfriend, I'll send those precious treasures to you, is it alright?"
"...(stops.)"

Muttsulini suddenly stopped. Good! He took the bait!
"...When?"
This friend of mine is one guy that can't be underestimated. He actually went directly to confirming the time instead of confirming the contents and amount.
"Let me think, how about next week?"
"...Deal made."
To think I actually bribed him like this. I'll use this to deal with him the next time I end up as an enemy of Muttsulini.
"Then I'm going."
Just as I step aside and prepare to leave, Muttsulini suddenly reaches his hand out to block me. Is there anything else?
"...This is for you to protect youself."
While saying this, Muttsulini thrusts a small bag at me.
"Protect me?"
"...There're some knives inside. Take them out if anything happens."
To be honest, these knives should be illegal. However, these are things that I'm really grateful for, since there're still a few people that I haven't took down, and they're definitely antagonistic towards me.
"Thanks. I'll use them when I'm in a fix."
"...(Thumbs up)."
After giving me a thumbs up, Muttsulini turns away and leaves. I can't continue to stay here. Got to find a place to read that letter. It'll be bad if the letter reads 'I'll be waiting for you at the rooftop during lunchtime' and I can only read this in the afternoon.
"Oh yeah, I better go to the roof to check on everyone."
No one should be at the roof. If so, I can go there and read the letter properly. Also, that place may be where the confession will take place. Okay, I decided, let's head to the roof!
Right now, I'm on the second level. Got to climb up the stairs if I want to get there.
And thus, on the platform of the stairs—
"I finally found you, Aki!"
"GACK! MINAMI!?"
My eternal nemesis is here.
The killing intent that's radiating from her body is already killing my muscles, and it seems like it'll explode the moment she touches me.
I tighten my nerves, trying to find a way to get past the second level platform. Unexpectedly, she continues to step forward in a calm manner, saying out her requests for me to choose from.
"Either you hand me the letter and let me kill you or let me kill you before taking the letter. Choose one."
That's strange, why can't I choose an option where I can remain alive?
"WHAT DO YOU MEAN BY THAT! IT SHOULD BE NONE OF MINAMI'S BUSINESS IF I GET A LETTER, RIGHT!?"
Basically, this is her fault anyway! It'll be great if I can defuse this crisis.
"Unrelated to me? Really...you really think so, Aki..."
"Eh?"
Minami looks like she got really hurt or something. I reconsidered what I just said. Is there anything wrong with me getting a girlfriend?"
"Do you mean..."
"This fact is really embarrassing, so I didn't mention it just now, but I, you..."
Completely different from her ferocious expression, Minami right now looks so pitiful. For some reason, my heart starts to race. What's with this feeling?
"Because of you, I got 3rd in the 'the girl you don't want to date the most' poll!"
"Farewell!"
What's this feeling? How about, monstrously terrifying!?
I followed my basic instincts and escape. Though I want to run off to the rooftop, I start to jump 3 steps down the stairs for the first time, all just to escape for this monstrous demon.
"You're still thinking of escaping? I won't allow you to gain happiness after me being forced into despair like this!"
"There're still people who beat you in the poll! Isn't that good!?"
"What's good about that!? How many people do you think there are below me!?"
Let me see. There're about 300 students in the second year. So—
"About 150?"
"Hundred and fif...HOW DO YOU INTEND TO COMPENSATE!? TAKE RESPONSIBLITY!"
"Even if you ask me to, I can't!"
"Anyway, hurry up and hand that letter over!"
"I DON'T WANT TO! YOU'LL DEFINITELY RIP THAT LETTER TO SHREDS!"
"I WON'T DO THAT! I WILL PRINT DOZENS OF COPIES OF THIS LETTER AND SCATTER THEM ALL OVER THE SCHOOL TO PREVENT THIS FROM HAPPENING AGAIN!"
"ISN'T THAT SCARIER!!?"
Damn it! I really want to escape, but I just can't get away from her! Got to stop Minami!
"Oh yeah, Minami, while running down the stairs, I know—"
"What?"
"—you're wearing white today!"
"Wha..."
Minami suddenly stops and uses both hands to push her skirt down. Stupid girl! In this situation, will I even bother to look at your underwear!?
"WOOOHHH!!"
Using this window of opportunity, I immediately increase the distance between me and Minami. The chance to escape will die off soon!
After rushing down the staircase, I then dash down the corridor.
"Ah, Yoshii-kun. How can you run down the corridor?"
Ahh, there's no lessons now? Slowly walking down the corridor, the English teacher slowly noticed my presence. So it's Endo-sensei. Sure appeared at the right time.
"Sorry Endo-sensei, but I got asked to do errands."
I stood in front of sensei to admit my mistake.
"You're asked to do errands?"
"Yeah, the teacher asked me to go to the empty classroom to move some desks back."
This is definitely a lie, but Endo-sensei believes it without a second word.
"is that so? However, you can't run down the corridor."
"I'll take note of that. Well, sensei, I have a little request."
"Hm, what is it?"
"Those tables are rather heavy, so can sensei grant me permission to summon?"
I have to get a teacher's permission to summon a summoned beast.
"Aki! You dare to trick me!"
Damn it, Minami's catching up!
"Sensei, please follow me for a while!"
"Eh? Ah...okay."
I dragged sensei over to one of the nearby classrooms. Good thing there're a lot of abandoned classrooms in the old building. Sure got saved now.
"Sensei! Please hurry up and grant me permission to summon!"
"Uu...I don't really know what's going on...okay, I'll allow you to summon."
"Great! Summon!"
In response to my call, my summoned beast appears from the floating magic array. As long as this guy is around, I'll have no problems even if that enemy's Minami.
"I'm definitely wearing grassy-green underwear today! How could you see it as white!"
A second later, Minami appears. I don't really mind, but...
"Minami, you don't really have to tell me that."
"Ah!"
My reminder caused Minami to blush heavily. If Muttsulini's to hear this, he'll be absolutely delighted.
"CHANCE!"
"WAH!"
While Minami's wavering, I pushed her into a corner of the classroom. And then—
"Heyo~ watch me!"
I already prepared my summoned beast to let the student's storage cupboard at the back of the classroom and use it to create a road block.
"Oi, what's are you doing! You're too despicable! Let me out!"
DONG DONG DONG!!! Minami slams hard at the storage cupboard. With the girl's strength of hers, she should be unable to move such a large thing. I finally rendered Minami powerless.
"What are you doing, Yoshii-kun!"
Seeing this, Endo-sensei lecture me, and the summoned beast immediately disappears. Seems like sensei cancelled my summoning right.
"Sorry! But this is an emergency!"
"Ah! Hold on a minute!"
Ignoring sensei, I again dash down the corridor. A while later, just a bit, and I can open the letter...thinking about this happiness, the dashing feet feel light and fleeting.
"I waited for you for a long time, Yoshii."
My classmate Sugawa-kun is already getting into position as he waits there for me.
"Sugawa-kun, you're intending to stop me?"
"Of course, I want you to die right now."
At the same time he said this, he pulled out something from his back.
"A, a wooden sword..."
" borrowed this from the kendo club in order to stop you!"
"WAH! WOAH~~"
Without saying anything else, Sugawa-kun hacks over at me without holding back. I immediately dodged aside, and at least is barely able to avoid that attack.
"HAND OVER THAT LETTER, YOSHII!"
"Uu..."
I unconsciously bit my lip. To think that this guy will actually prepare a weapon. Right now, I have no chance of winning if I don't go all out. If I have some sort of a weapon—hm? A weapon?
"Oh ya, I still have that!"
I reached into my pocket and grab a small bag. That's right, this is what Muttsulini handed over to me just now, the bag that's full of knives.
"Uu! So you prepared some weapons as well!"
Knowing that his advantage no longer exists, Sugawa-kun seems rather impatient.
"Very good! Then we're even!"
I grabbed a knife from the bag and immediately shrink the distance Sugawa-kun.
Let's decide this now, Sugawa-kun!
"Damn it! I haven't lost yet!"
Sugawa-kun swings his wooden sword down. Unfortunately—
"Too weak!"
I took half a step aside, and his attack nearly hits me, only to miss. And having swung the wooden sword, Sugawa-kun is completely open for an attack as he stands in front of me. There're holes all over the place.
I haven't let a chance slip by, as I aim my nailcutter at Sugawa-kun—
"What the heck, how can I win with this nailcutter, this idiotic me!"
I dejectedly collapse onto the floor. Though it's true that a nailcutter is a type of knife.
"Yoshii...you're one huge idiot..."
Sugawa-kun's pitifully gazes at me.
"Da, damn it! If that's the case, I'll use the nailcutter on you! At least it's better than fighting barehanded!"
"That's not right, isn't it? No matter how I think, you'll have a better chance of winning if you go barehanded, right?"
"SHUT UP!"
In this silent 3rd storey of the old building, Sugawa-kun and I exchanged roars.

"WAHH! MY FINGERNAILS! MY FINGERNNNAAAIIILLLSSS!!!"
From above, I stared down at Sugawa-kun, who's limp and clutching his hand painfully.
To think that I actually won this battle.
"I was rather shocked myself. But then, the most important thing right now is to go up. Sorry."
"Yo, Yoshii...you traitor..."
Leaving behind Sugawa-kun, who someone's gasping even though I merely cut his fingernails off, I continue to climb up the stairs and head towards the roof. If I can get past the 4th level and past the roof—
"So you came, Akihisa!"
"Yoshii-kun, please surrender quietly."
"It's Yuuji and Himeji-san..."
While getting up the staircase, the ones blocking me are the great demon king—Yuuji and Himeji-san.
"How did you two know that I'll come here?"

"Because the roof is the best place for a confession. With that simple brain of yours, you might think that you can watch over everyone's actions here. So I guessed that you'll come here."
Damn it! As expected of Yuuji, he guessed all of my thought process accurately.
"You could have just hidden inside the toilet and read the letter without any interference."
Ah!
"Sorry, Yuuji. I just got a stomachache. Got to go to the toilet."
"Yoshii-kun. Don't tell me you haven't realized it?"
Himeji-san stares worriedly at me. I can't stand that gaze!
"Yuuji, why must you stop me? Even if you do this, it wouldn't be of any benefit to you, right?"
In order not to let him stick onto me any further, I got to make this clear.
Yuuji looks serious as he answers me.
"You're right, I won't get anything good from this. No, before that, I have no intention of getting a girlfriend."
"If so, why..."
"That's not the problem, Akihisa, I just..."
That bad friend stares at me without any hesitation and continues,
"—hate seeing you getting happiness!"
"You're definitely the worst friend!"
Even I'm starting to wonder if we're really friends.
"Akihisa, I won't tell you something so old-fashioned like 'hand that letter over'. Show me your best and bring it on."
Yuuji takes off his coat and undoes his tie. Looking at the physique of this bad friend of mine, there's no excess fat on his body. Those forceful looking muscle lines are what all men wants.
"Can you help me take my coat, Himeji?"
"Ah, okay."
After passing his coat over to Himeji-san and undoing his tie, being unrestrained, Yuuji gets into position as he swings a few punches. Whoosh, quite a few sharp sounds. Just this alone, and I know the difference between an amateur and an expert. This guy...he's really trying to kill me.
"Yoshii-kun, you better give up..."
Himeji-san moves beside me and looks worried as she stares at my face. It's obvious why she would be worried for me; as what his appearance shows, Yuuji's really used to fighting, and I don't really have much of a chance if I go head on. But—
"Thanks for worrying about me, but I have no intention of giving up."
For the girl who summoned enough courage to write this letter to me, for my own future, I can't just run away here!
"Really...I understand. I won't try to stop you again."
"...Sorry, I know that you're doing this for my own good."
"No...it's because this is Yoshii-kun's style."
"My style? Oh yeah, can you help me hold this?"
"Ah, okay."
Like Yuuji, I took off my coat. My movements are definitely a lot smoother. Speaking of which, I haven't fought seriously for a long time, and the opponent's Yuuji this time. My body would actually tremble, and it shouldn't be because I took off my coat.
"...Akihisa."
"Bring it on, Yuuji."
I clench my fist and got ready to fight.
If I beat this guy, I can just read the letter without any—
"...You're really an idiot."
"Eh?"
Yuuji looks rather listless, but he's not staring at me—but the coat that Himeji-san's holding onto.
"That, that letter, that letter should be in the pocket...can I read it?"
Himeji-san pulls the letter out from my coat pocket. Eh~ that's...
"NO, NO!!! READING MY LETTER WITHOUT EVEN A FIGHT, THAT'S AGAINST THE RULES!!!"
"HOW STUPID CAN YOU GET!? DON'T CARE ABOUT HIM, HIMEJI! JUST DISPOSE OF THAT LETTER!"
Yuuji grabbed me just as I'm about to grab Himeji-san.
Damn it! I can't get away! This perverted muscle freak!
"Eh? Isn't this..."
Looking back at Himeji-san, she seems bothered by the letter she's holding in her hand. Maybe she found it too easy to get and is afraid of what's inside.
"..."
No, that's not right. It shouldn't be something like that. Himeji-san would show such an expression because she's too kind and can't bear to read a letter that someone else wrote or destroy it mercilessly. I see, so there's a chance to win!
"Himeji-san."
"Eh! Ah, yes, is there anything?"
"Actually I know, gentle Himeji-san can't really stamp on other people's feelings, so you better—"
"—rip that letter apart."
"NO! THAT'S NOT IT! YOU'RE TOO DESPICABLE, YUUJI! TO ACTUALLY ADD WORDS LIKE THAT! THIS IS BASICALLY AGAINST THE RULES!"
"Okay, I got it."
"No, you shouldn't be answering 'okay' just like that, right? HIMEJI-SANN! YOU DON'T HAVE TO REALLY TEAR THE LETTER LIKE THAT! I CAN'T POSSIBLY READ IT NOW! GIVE IT BACK! GIVE ME BACK MY HAPPY FUTURE AND WHAT I SAID 4 LINES AGO!"
Just as I screamed out in despair, the letter got torn to bits, and it's no longer in its original shape as what's left are scraps of the letter.
"Really, to think that Himeji will actually tear that letter herself...sorry Akihisa."
Yuuji stares at Himeji-san in a shocked manner and then apologized to me. I'm shocked as well, because I thought that Himeji-san's a girl who won't do that sort of thing.
"At least let me do this."
Yuuji said as he picks up all the scraps on the floor.
Yeah, now's not the time to give up.
"Thanks Yuuji. I'll bet on the last probability and fix these pieces of paper back!"
"—I'll kill your last hope."
Whoosh...burning...
Ah, how warm! The strong flames seem to melt my ice cold heart...
"GYAH! NO WAY! YOU ACTUALLY BURNED THE LETTER!? IS THERE A NEED FOR YOU TO DO THAT? IF SO, I DON'T HAVE ANY CHANCE OF READING THE LETTER ALREADY!? WHERE DID MY HAPPY FUTURE DISAPPEAR TO?"
"Akihisa, you may not understand..."
"WHAT? FORGET ABOUT THAT, HURRY UP AND GET A BUCKET OF WATER!!"
"The thing I hate most is your happiness."
"WHO WILL UNDERSTAND THAT, YOU BIG IDIOT!? YOU DESPICABLE BASTARD!!"
No matter how hard I tried, that letter was burned to a pile of ash.
"Doesn't Sakamoto-kun want to know who wrote that letter?"
Seeing the letter burned to ash, Himeji-san seems relaxed for some reason as she turns and asks Yuuji.
"I have no interest at all, since I just want to get rid of Akihisa's happiness. Besides—"
"Be, besides what?"
"I can sort of guess who wrote that letter."
"Eh?"
"If what you tore was 'someone else's' letter, it will create quite the trouble, right?"
"That, that...this, this..."
I don't really understand Himeji-san and Yuuji's conversation. Do they know who wrote that letter?
"Yuuji! Repeat that again!"
"Ahh! Yoshii-kun can't eavesdrop!"
"GYAH!!!"
"Himeji, Akihisa's neck seems to be tilted back completely."
"So, sorry! I actually did such a cruel thing."
"Well, you don't really have to worry about that. Besides, even if he remains alive now, he will be murdered by those guys."
Squeezing off the last ounce of consciousness, I listen to the voices where Yuuji pointed to.

"A~KI-~ YOU ACTUALLY DARE TO DO SUCH A THING TO ME-~"
"I'LL DEFINITELY KILL YOU, YOSHII!!!"
"""KILL HIM!!! KILL HIM!!!"""

Dear God, I beg of you, allow me to safely see the sun tomorrow.
☆

How did that happen? That disappeared letter actually went into Yoshii-kun's shoe locker! Someone must have picked it up and kindly put it in for me...
It's because of me that you ended up suffering such a terrible thing...I'm truly sorry, Yoshii-kun.
But like what Yoshii-kun told me before, I hope I can convey my feelings not through a letter, but directly to you.
So, please wait for me.